The 10 Best Website Builders for Photography Websites
---
If you are a professional photographer, you definitely need a digital footprint to expand your client base and become well known. 
Social media profiles can only go so far in establishing your credibility. To be considered as a professional who wants to carve a niche, you need a website to do your bidding (and branding).
What Are the Essential Features of a Photo Website?
Gallery – Your stock-in-trade is the photography portfolio you have built. The best way to show it off is not Instagram, as many would have you believe but a Gallery section that shows your photos in the best possible way through a perfect template.

Testimonials – The reputation and goodwill you have generated can be put to good use. Have your previous clients write a few kind words and host them on the Testimonials page. Many modern website designs prefer to have testimonials as part of the Home page.

About Me – What drives you to be the best wedding photographer or fashion photographer? Your passion should be reflected through carefully put together composition on the About Me page.

Contact Me – This is quite straightforward and provides your office address, email ID, phone number, and other relevant information.  
Best Website Builders for Photography Websites
Squarespace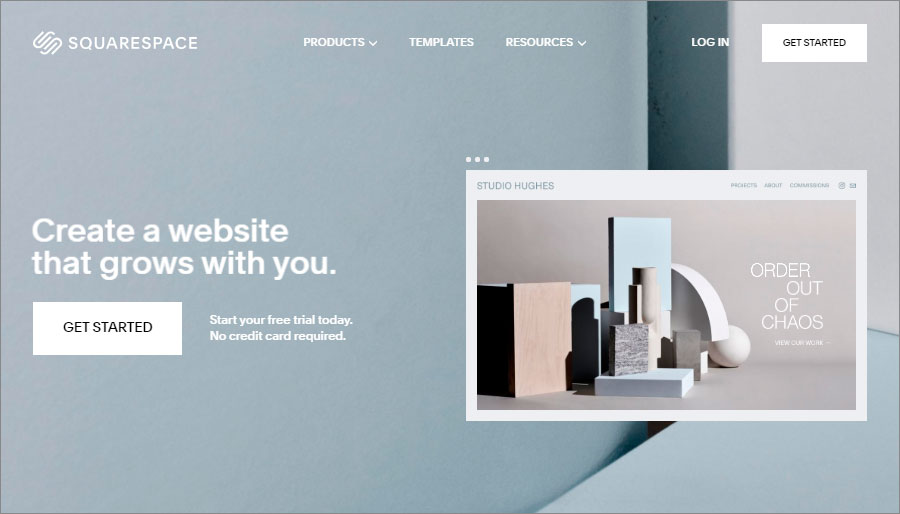 One of the most reputed website builders, Squarespace, is reputed for its collection of templates. Templates set the site's tone through its design, and Squarespace has the classiest ones on offer.
These templates rank so high because they have been designed for visuals rather than text-based content.
That is why photographers and other creatives consider it the best website builder for photography.
The other USP of Squarespace is that the site can crop and resize images to suit any type of device. With a plethora of screen sizes and resolutions available today, this is indeed an advantage.
The available third-party plugins are quite limited, but you are going to get all that you want from Squarespace itself – analytics, SEO fine-tuning, and other features that help your site rank high.  
The only minus is that it is slightly more expensive than its competitors. To be fair, a website is your window to the world, and a few dollars more every month should hardly matter.
Worpress.org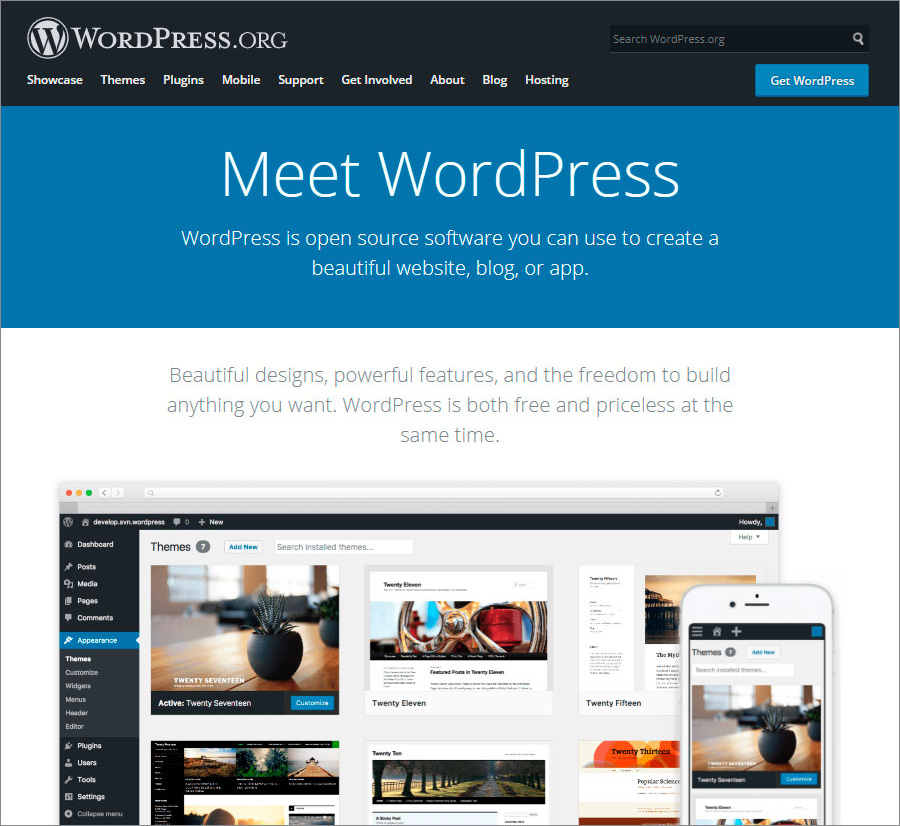 If you are looking for a website that is affordable yet gives you a wide variety of plugins, WordPress.org is a choice you must consider.
The WordPress.org software is the only free photography website creator. It does not cost a cent to download, and the initial bundle has all that you need to launch a basic photo site.
You can learn from hundreds of videos and guides on the web and set up a site in less than a week using its native editor.
You could also add in Template packs such as Divi or Beaver Builder that have their own editor.
A blog is a must if you want to optimize your site for high search ranking, and no site offers a better blog section than WordPress.org.
You have hundreds of themes and thousands of plugins to choose from. It is best that you self host the site, i.e., rent space on a server from a hosting provider and run your site from there.
As your business grows and the traffic rises, you could opt for more expensive plans and service providers. It is easy to migrate WordPress.org quickly – just download a zip file from the old server and upload it to a new one.
Wix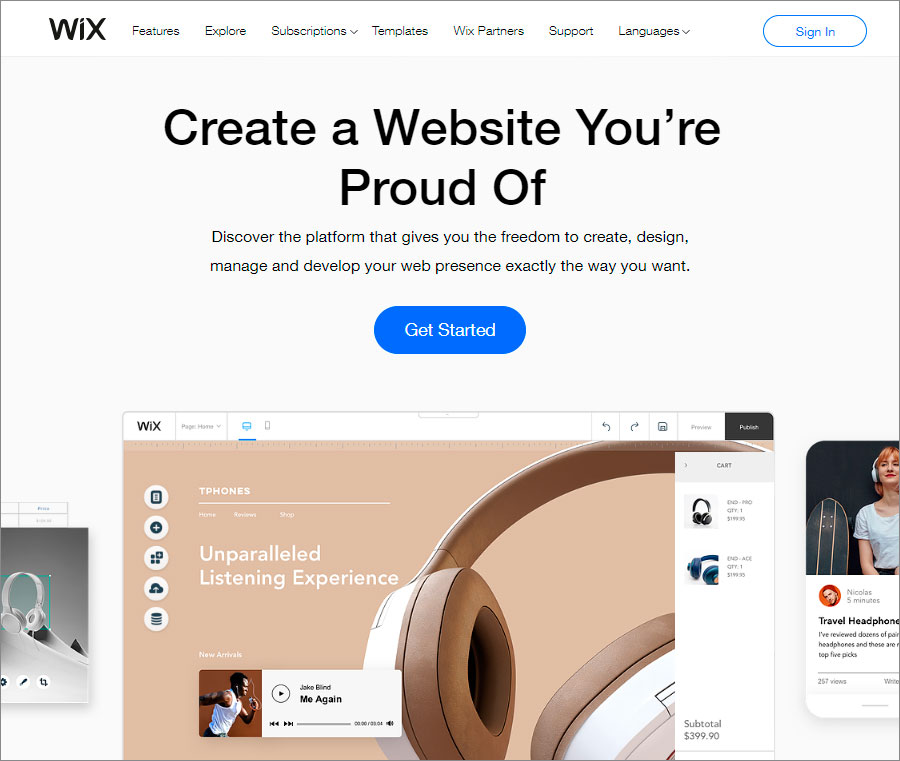 In the past few years, Wix has gained quite a reputation as a WordPress alternative. What does Wix offer to photographers? Plenty of features that have been custom designed.
To start with, Wix has begun to strike back at Squarespace with its own collection of sleek templates. Each of these has advanced customization features that let you modify the color, typography, fonts, and background image until you have the perfect web page.
If you are stuck, Wix is just a call away. Unlike WordPress, you do not have to depend on an expert community for help.
The main plus, though, are the superb Galleries that Wix offers. Besides, you get your own mailbox and a generous bandwidth and server space. Since your website is on a Wix host server, you do not have to worry about renting servers from outside and buying a domain.
From SSL certificates to backup, the Wix team has you covered. Also, Wix is quite affordable and won't dent your budget.
Elementor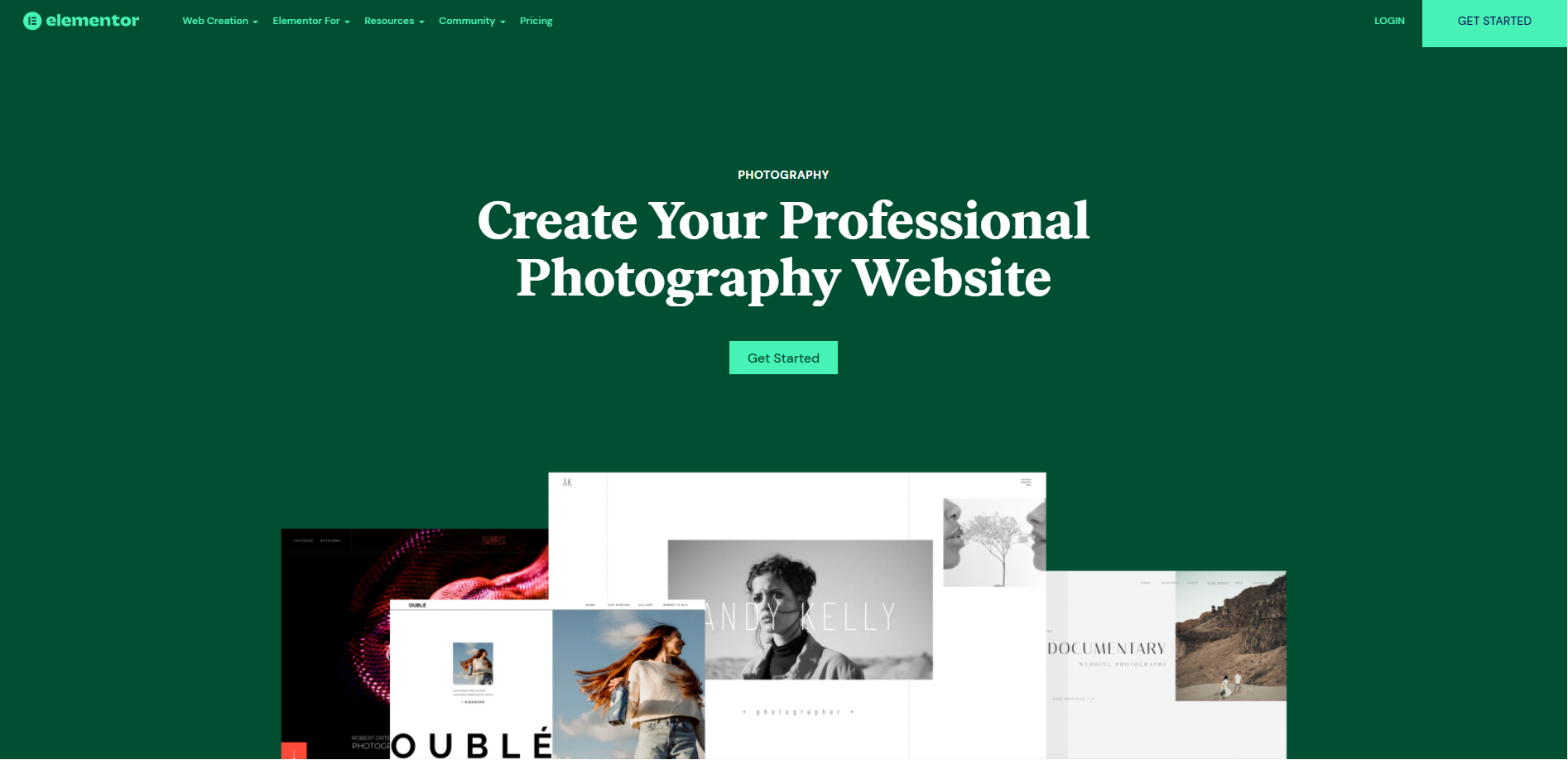 A popular WordPress website builder,
Elementor
is leveraged by photographers to create stunning, dynamic portfolio websites.
Boasting an ever-increasing kits library, photographers can choose from a variety of  designer-made, fully responsive page blocks, pages and launch a website within mere minutes.
Alternatively, photographers can create their very own comprehensive WordPress websites from scratch without having to write a single line of code.
An all-in-one web-design marketing platform, Elementor's promotional tools are built to help you reach your audience.
Photographers can seamlessly integrate their marketing tools and social media accounts to boost conversions, capture leads, and analyze website performance.
Just as importantly, photographers can create an online store to sell their work and services using Elementor's WooCommerce builder. 
Format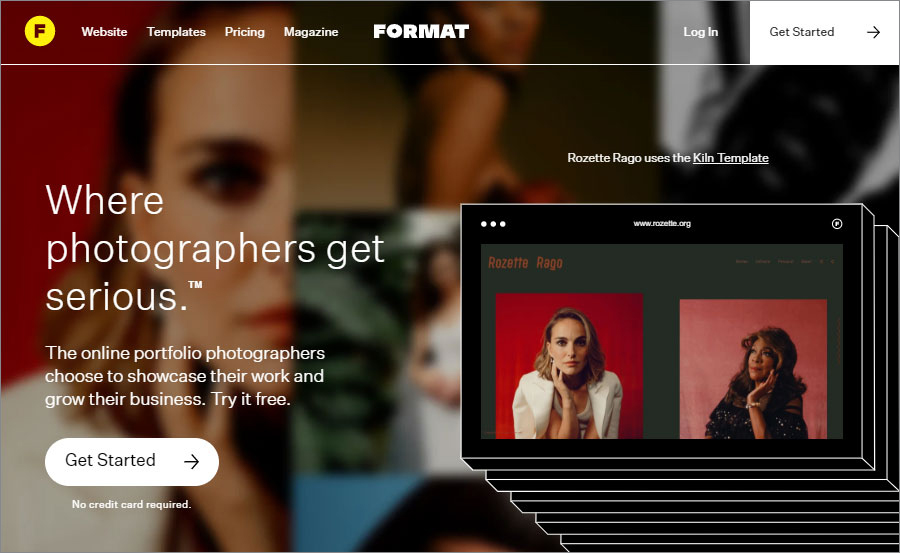 A relative newcomer Format is useful for creating simple, no-hassle photo websites. All you need to do is sign up and dive into the 60 themes they provide and start building your website.
The word intuitive is thrown around a lot when it comes to website editors, but Format is really easy to learn.
You get your own blog page and an online store to sell your artwork. The latter is especially important as a passive income stream.
You can also upload your own themes or tweak the HTML code of the theme of your choice. This is something that Wix and Squarespace do not allow.
If you use Adobe Lightroom or Capture One 12, Format allows you to update your site directly following post-production.
For those with an iPhone or iPad, the Format app allows creating and editing galleries from the smart device and instantly sharing your work.
With loads of how-to videos and 24x7 support staff, you are never stranded no matter how significant your tech problem is.
Photoshelter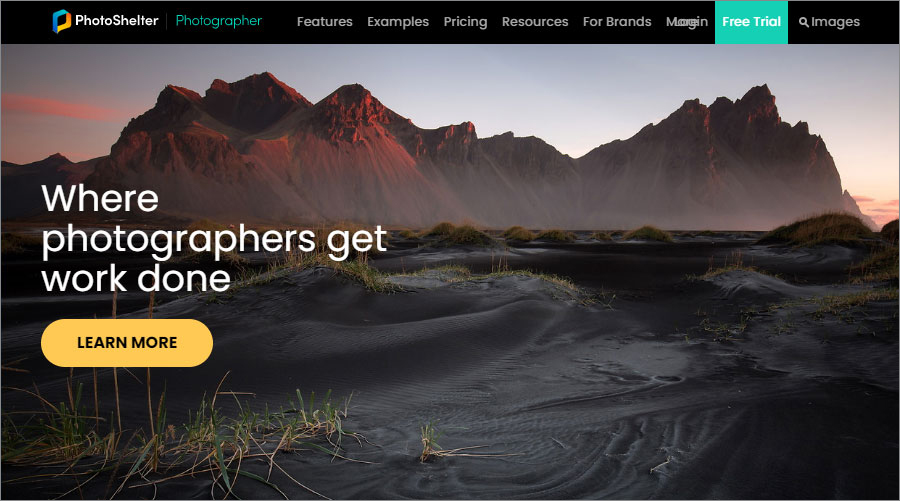 The tagline "Where photographers get work done" says it all. Photoshelter gives professional photographers an easy way to show and sell their photos. At this moment, it is probably the only dedicated portfolio website builder for photography.
What do they offer? Advanced features such as real-time editing – you get an updated view of your site as you move elements on a page or resize them instead of saving and understanding.
All the plans come with unlimited pages and support for Google Font. You can upload directly from Adobe Lightroom and Photo Mechanic using a convenient desktop image uploader, move files between Galleries by drag and drop, and automatically import EXIF and other metadata.
On top of all these, you get a shopping cart that has been exclusively designed for photographers and accept orders in 23 different currencies using the integrated online store.
It can also generate invoices, collect, and account for sales tax and fulfill orders with photo printing vendors. In short, a Photoshelter website is literally a one-stop online photography store.
Weebly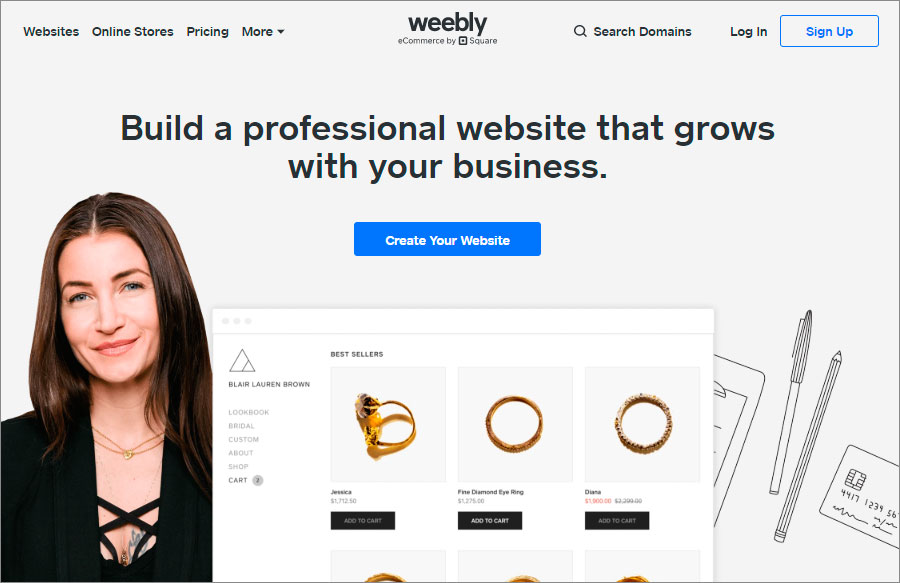 Weebly makes an offer you just cannot refuse – 0% transaction fee for sales from your website. On top of this, you get to use one of the most reliable site builders out there.
Drag and drop builders have been around for over a decade, but what gives Weebly the edge is that they were almost at the start. That is why the editor is matured with minimum clutter and tools within easy reach.
You also get unlimited storage, and there is no need to resize your images to reduce size.
Integrated marketing tools and easy to perform SEO strategies make a Weebly site a top-notch portfolio maker.
Weebly Mobile Apps have powerful syncing features making it easy to snap an image and upload it from wherever you are.
Premium Weebly themes are not as impressive as Squarespace but are undoubtedly attention-grabbing. You can also find most of the popular third-party apps in the Weebly app store that increases the functionality of your site.
Webnode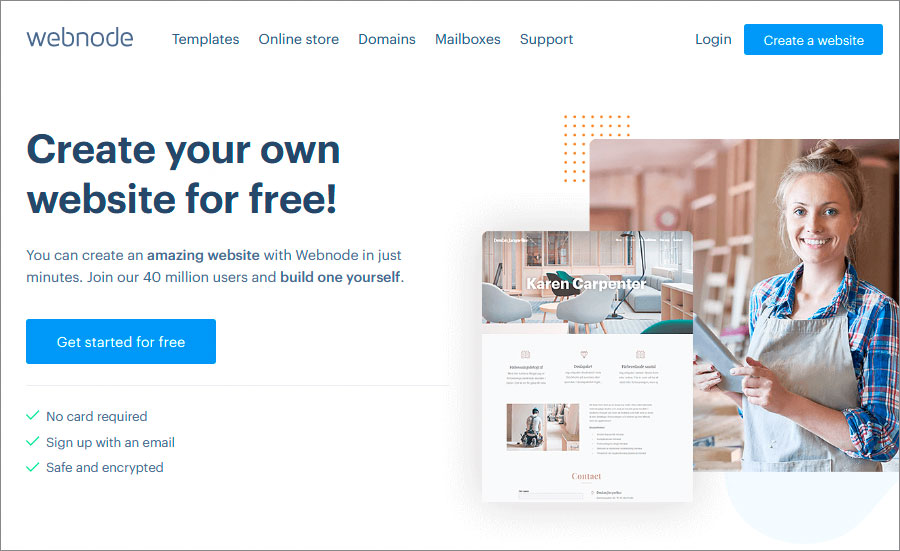 Though not a photo-specific site, Webnode has certain advantages that allow it to rival the big players. It is a multilingual site enabling you to publish your work in multiple languages. This increases your reach worldwide and draws in more clients.
You have over a hundred themes to choose from, and most of them are quite attractive. Of course, Webnode does not offer you Squarespace style, but it is also easier on the pocket. The templates are also fully customizable, allowing you to place design elements that fit your needs.
If you are looking for a variety of fonts and backgrounds, Webnode is definitely a site builder you have to consider.
It also has an integrated store that supports over 20 languages. The checkout cart can accept orders from anywhere in the world, an essential feature in today's global business.
Jimdo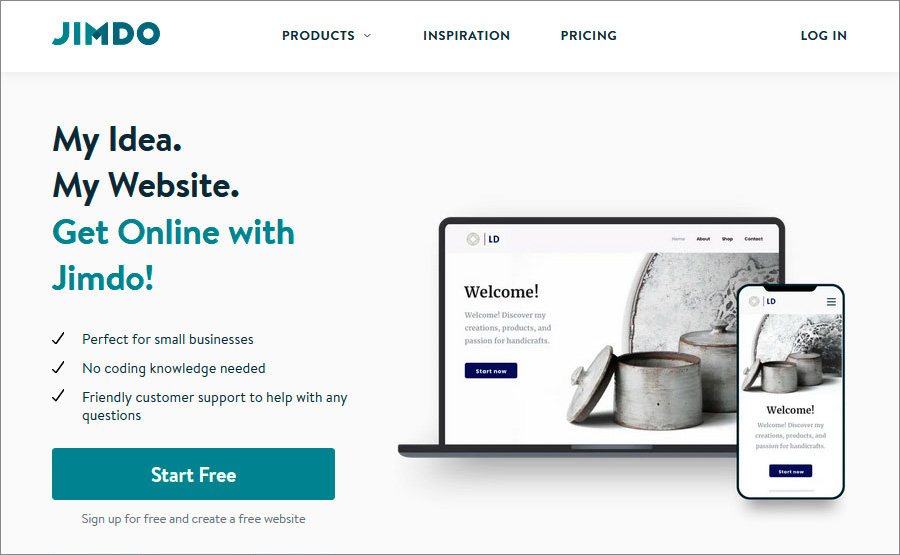 Jimdo has a simple appeal for website owners – it is the easiest website builder. It does not give you five hundred templates and a thousand plugins. Jimdo's charm is to get a site up and to run as quickly as possible.
At the core of Jimdo photography website builder is Dolphin, an AI-powered editor that can create a site in no more than a couple of hours.
Since no one expects a photographer to also be a code junkie, this fits in perfectly.
You can go as simple or complex as you want with Jimdo. It is possible to, of course, modify the templates to your taste or use them just as they are.
Their plans are highly affordable, and it is the only complete website solution available at this price point.
Of course, you don't get direct upload from image editors and one-click share with your social media accounts. But that is not the feature you are looking for in Jimdo.
Pixpa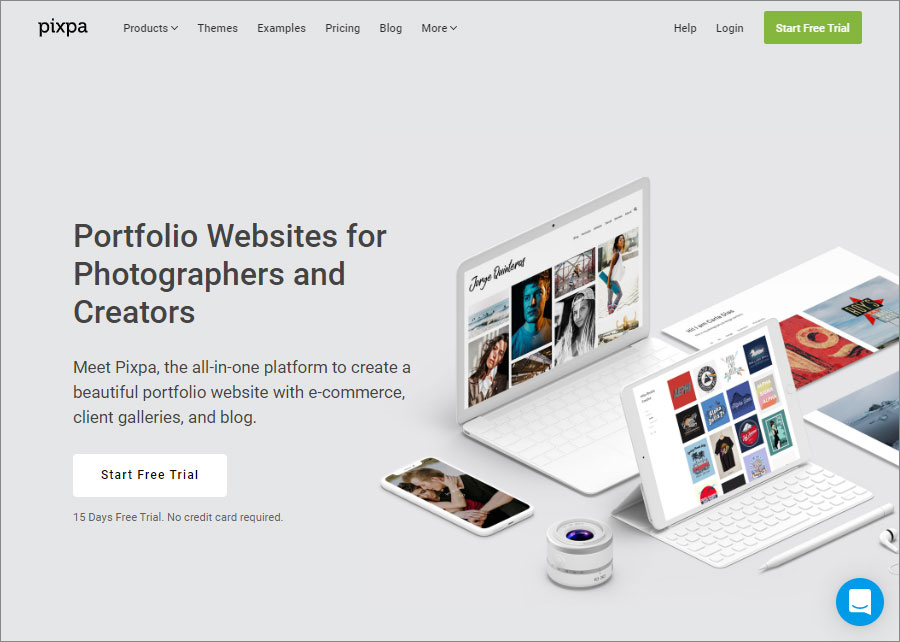 Pixpa is a newcomer that is known for its fun to use photography website builder. Like PhotoShelter, it has been designed, keeping in mind the needs of creatives and portfolios.
Pixpa is still in a state of evolution, and it will be fascinating to check in after a few years and find what it has morphed to. Right now, everything is more basic than advanced.
The themes, though, are cool and have a boho touch that would appeal to most in this industry. Workflow management is essential, and Pixpa seamlessly switches you from one stage of the website building to the next.
It is an all-inclusive platform with the ability to resize photos, an integrated store, and full-featured galleries that can be updated on the fly.
All the themes have a stylish look and neat arrangement of page elements. They can be slightly modified but not to a large degree. You could migrate the entire site from any theme to another – a feature that is lacking in most website builders.
And The Winner Is...
Well, we are not going to say anyone is the first among equals. That would defeat the purpose of this article. Each has clear strengths that have been laid down clearly, and it is up to you - the end-user - to make the decision about the best photography website builder.
Having said that, we do have some favorites in mind. 
If you are looking for a website builder for which it is easy to find a web developer, go for WordPress. That is because it is the most used, and problem-solving is that much easier.
On the other hand, WordPress is a jack of all trades, and if you want to get a specialized website builder, then Photoshelter seems to be the most suitable because of the significant number of features on offer.