Facebook Advertising for Your Photography Business
---
A step by step guide for getting started + tips and tricks for creating ads for your photography business.
Times are tough for wedding photographers and Facebook advertising is a great way of getting yourself out there and driving more enquiries. It may seem daunting it doesn't have to be, in this guide we will give you the info you need to get the most out of your ads and money on Facebook. The beauty of advertising on this platform is you can spend whatever you like. There is virtually no minimum spend so almost every photographer can that advantage of this tool. 
The basics
If you have some experience with Facebook advertising you can skip this section. If you have little to no experience with Facebook advertising then read on.
Setting up Ads Manager:
Before you can get started in Facebook Ads Manager, you'll need to set a Facebook Business Page for your business. Most of you will already have this set up for your photography business if not do this click the '+' icon on the top panel of the Facebook window and follow the instructions.
Once you have a Facebook Business page you will find Ads Manager from your Facebook homepage. In the left menu toward the bottom, you'll see a link for Ads Manager. You may need to select View More before it is visible.
If it is the first time you have accessed Ads Manager you will be prompted to set up your account and choose your currency and timezone. 
Once you have access to Ads Manager you should explore the dashboard and get familiar with the different tabs, filters, columns and buttons. 
Creating Ads
Creating an ad is as simple as hitting the big green create button and following the steps.
But, here are a few key things you know about before you get started:
Ad Objectives: 
Ads Manager has a range of objectives to choose from and it will ask you to choose one when you create a campaign.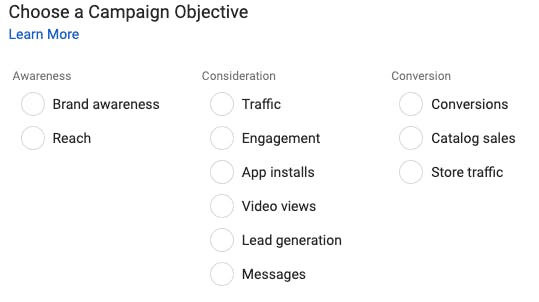 As a general rule:
Objectives under the 'Awareness' and 'Consideration' sections should have a large, broad audience e.g. people interested in wedding photography. This will help you reach lots of new people and potential customers. 
Objectives in the 'Conversion' section should be delivered to more specific audiences e.g. website visitors. These should be used to retarget people who have already taken interest in you and give them the last push they need to convert/enquire.
Targeting: 
Facebook lets you target people by interests, age and location and you can also create your own 'Custom Audiences' and 'Lookalike Audiences'.
A 'Custom Audience' connects you with the people who have already shown an interest in your business or product. You can create an audience from your customer contacts, website traffic, or mobile app.
A 'Lookalike Audience' helps you reach new people who are similar to audiences you already care about. You can create a 'Lookalike Audience' based on people who like your Page, conversion pixels or any of your existing 'Custom Audiences'.
Some of these audiences will require you to install a Facebook pixel on your website. See a step by step guide on how to do this here.
Once your pixel is set up you can target people who have visited your website, specific webpages, target by how much time they spend on your website and more. To set these audiences up you will need to create a 'Custom Audience' in the 'Audiences' page on Ads Manager and select 'Website' as your source.
Creative: 
Images: Choosing an image for your ad doesn't have to be difficult. Pick something that represents you, your work and your brand.
Text: When writing the copy for your ad the three most important elements are the headline, body/caption and the CTA or call to action. 
Your headline or title should have what you are e.g. "Wedding Photographer", so that people know what you do right off the bat. 
Your body should have a little more about you and why you're awesome e.g "Capturing whimsical, modern weddings for over 6 years". 
Finally, you can the best CTA that works for your ad from the options Facebook gives you. They will most like be one of the following: Learn More, Get Quote, Book Now, Send Message.
Advanced tips
Strategy: 
Once you have the basics sorted it is time to start thinking about a strategy. Your strategy doesn't need to be overly complicated to be effective, the important thing to keep in mind is what your potential customers will be thinking and feeling each step of the way. 
If you are starting out try having at least one of each of the following types of ads.
Traffic Objective Ad
Targeting people who are: 
In the areas you can/would like to work in
Engaged (you can also select people who got engaged recently e.g. last 3 months)
Interested in weddings, wedding photographers, wedding planners etc
In a Lookalike Audience based on your past customer list
With creative that:
Captures their attention with a powerful image and tells potential clients a bit about you and why you're great. 
A CTA that would work great for this would be 'Learn More'
Conversions Objective Ad
Targeting people who have:
Visited your website
Viewed or engaged with your social media accounts
With creative that: 
Gives people that extra push they might need to make an enquiry e.g a testimonial for a previous client.
CTAs that would work great for this type of ad are 'Get Quote', 'Book Now' or 'Send Message'
Other tips
Test your ads:
Try out different images, headlines and audiences and see what works best for your ads. Facebook allows you to A/B test your ads and test almost any aspect of your ad to optimise your results.
Try carousels and videos:
Show off your work with carousel ads with multiple images. These aren't hard to create and can be an effective way to capture attention. If you have experience with video production why not create a video ad, video ads stand out and are highly engaging. Facebook also has a function that allows you to easily turn your images into videos.
Track conversions:
Set up a conversion so you can track not only clicks but exactly which ad is driving the most conversions/enquiries. 
You can set one of these up by filling out the form in the 'Custom Conversion' tab on the Events Manager page in Facebook Ads Manager. More details on setting this up here.