Narrative Select's plans are changing
---
On November 8, 2022 our Narrative Select subscription plans will be changing to better reflect all of the new and improved features we've added in the last two years.
We're passionate about making Narrative Select a tool powered by smart tech and intuitive design that really changes the game for professional photographers. We've vastly improved our AI and added new features including; Survey Mode, Scenes View, Image Assessments, image cropping and much more. 
This change allows us to continue investing in innovation to keep your post shoot workflow lightning fast.
No changes for existing users subscribed to Select Pro
We want to say thank you to our early adopters who have been supporting us on this journey so far, so this price increase will not affect any of our paying users who subscribe to Select Pro before November 8, 2022. For existing Pro users billed on a monthly basis, you'll keep your existing monthly price, but if you change to the annual billing option before November 8, you could save an extra $5.50 USD each month.
If you want to invite your friends to subscribe now before the price increases, you can use your existing unique referral link or code.
Change in the Select Free plan
Our free plan will still be available so you can keep enjoying Select completely free, however from November onwards, Select Free will have 4 projects per month with advanced features. After that, you'll continue to get unlimited projects with our core features for the rest of the month.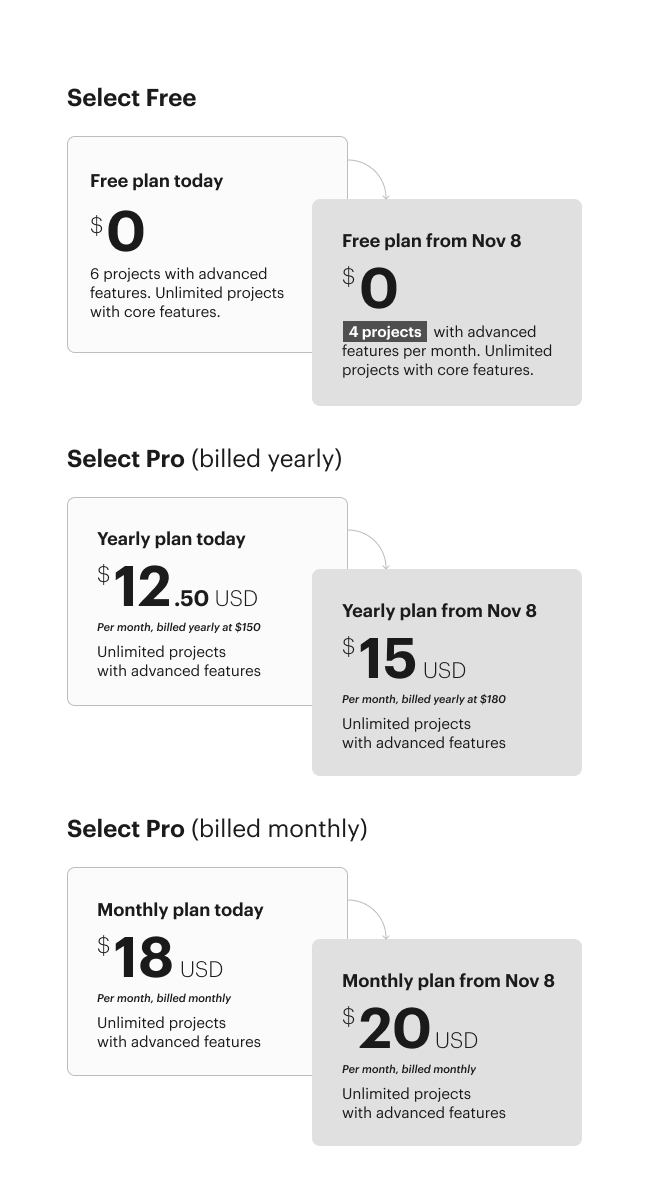 FAQs
Will I be affected by the upcoming price increase?
If you've subscribed to a paid Select Pro plan before November 8, 2022, the price increase will NOT AFFECT you. It will only affect users who upgrade or subscribe to Select Pro on or after November 8.
Will a price increase apply to both Annual and Monthly plans? 
Yes. Select Pro monthly will be changing from $18 to $20 per month, and Select Pro yearly will be changing from $150 to $180 per year.
If I'm on Select Pro paid monthly plan and move to the annual plan later, will I still get today's prices?
If you're thinking about changing to an annual billing option, you can lock in today's prices if you upgrade before November 8. Any plan changes made on or after November 8, 2022 will use the new prices.
If I'm on Select Free, when will my project limit change?
From November onwards.
If I cancel or downgrade my Select Pro plan on or after November 8 and then re-subscribe, will I get to keep today's prices?
No, any reactivations or plan changes made on or after November 8, 2022 will use the new prices.
Why are you changing your Narrative Select plans?
We've added many powerful new features and improvements to Select since launching over two years ago. The new plans reflect this, and will help to ensure we can continue innovating and enhancing Select for years to come.
Are Narrative Publish Plans changing?
Narrative Publish plans are not included in this pricing change. 


We're here to help - please reach out to [email protected] if you have any questions