The Most Popular Photo Culling Tools Used by Professional Photographers
---
We recently did a survey and asked thousands of photographers about their workflow, tools, and the challenges of running a photography business. You know what topped the list for the biggest pain point? The tedious task of culling.
Here are the top six tools photographers told us they use to help them cull through thousands of photos from weddings, events, family, and couples shoots. With each photo-culling software offering its unique benefits and drawbacks, you're sure to find one that fits your needs.
1. Adobe Lightroom Classic and Creative Cloud (CC)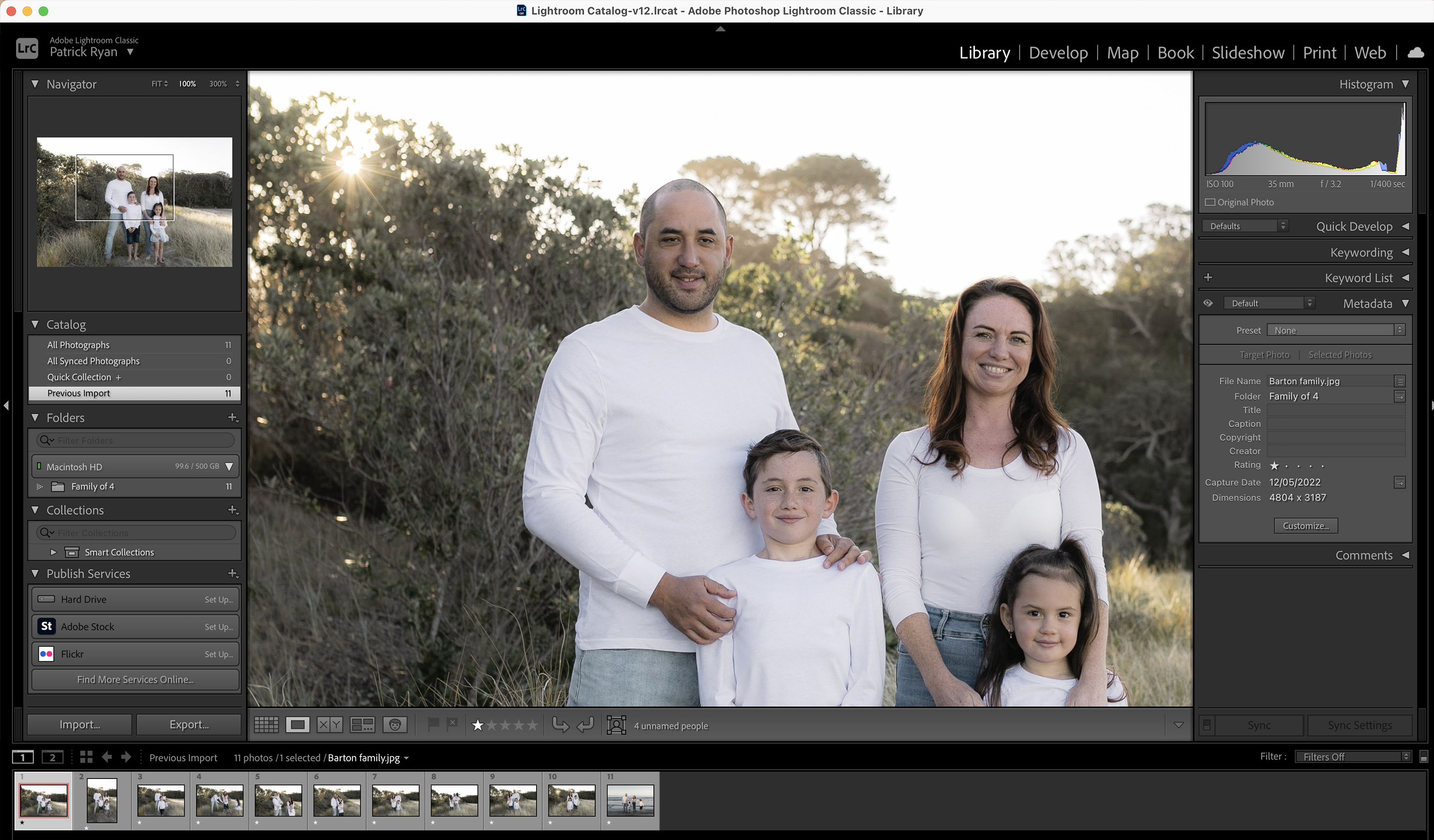 Having developed professional editing software for photographers for decades, Adobe's Lightroom has become the go-to tool for professional photographers worldwide. Two of its products–Lightroom Classic and Lightroom CC–were in the top six of our list. 
Lightroom Classic is desktop-based, while Lightroom CC allows you to cull and edit images on any device using cloud storage. You get both apps when you subscribe to Adobe's Photography plan, so we'll look at how they both fare for photo culling.
Pros
Culling and editing all in one

-

If you edit in Lightroom already, culling in the same software makes perfect sense. Lightroom makes it simple to upload photos, cull, and edit them without leaving the app. 

Plenty of metadata features

- Lightroom provides easy tools for adding and changing metadata (such as capture time). You can then sync the changes across the rest of your gallery.

Smart collections

- If you want to automate adding photos to specific collections (like for client sneak peeks), you can set up Smart Collections that match a specific rule, such as all photos with five-star ratings.
Regular updates

- With it being a subscription-based tool, you will always have the latest software update. Adobe releases updates a few times a year to make sure your Lightroom is up-to-date with the latest tech.
Cons
Speed can be an issue

- Importing photos can take a long time, especially if you have a large shoot like a wedding. You can optimize the import settings to a degree, but it still isn't as fast as other apps on our list. Navigating between photos, the few-second lag adds up over time when culling a shoot with a few hundred photos, not to mention thousands.
Takes up lots of space

- You may see Lightroom slowing down or freezing altogether if you run low on disk space. Over time you'll have to keep up with clearing old catalogs, preview cache, and any old or duplicated files or app versions to keep Lightroom running at an optimal speed for culling.
No AI-assisted culling features

- Lightroom only has manual culling features. 
2. Narrative Select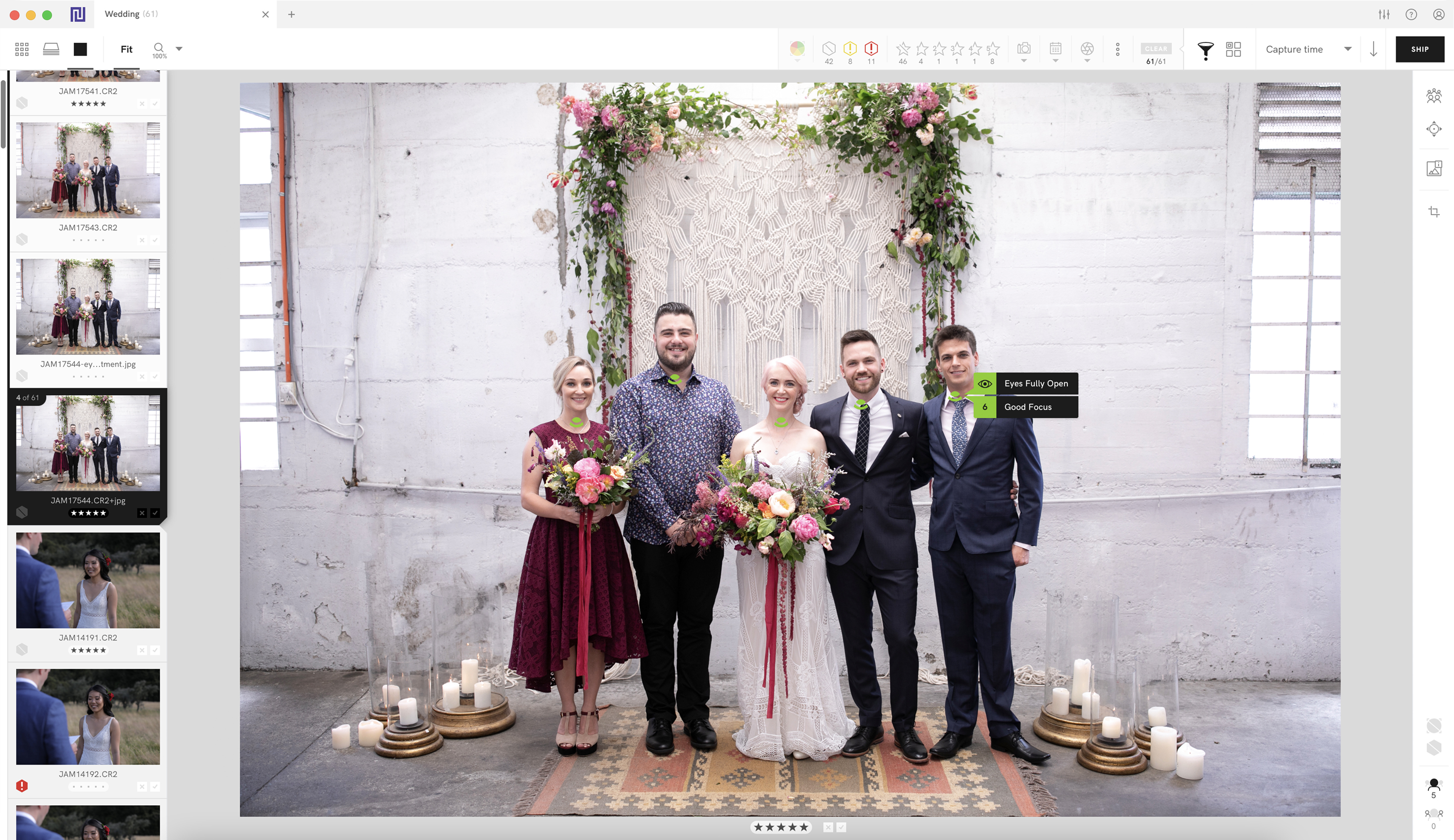 Built with smart technology, Select provides photographers with a simple and stress-free way to select photos clients will love while eliminating unsuccessful ones. While the software uses AI, it doesn't cull for you. Narrative's philosophy isn't for AI to replace photographers but to work with them in partnership to create their best work. 
Because of Select's AI, you can identify your best shots in less time and more accurately. The software gives different indicators on images, such as closed eyes or blurred subjects, to help you make an informed decision in seconds.
Select is also constantly being improved with new features based on feedback received from the photography community. 
Pros
Speed

- Select is lightning-fast to import files, so you can start culling without waiting for each photo to load. Any photos you review will show high resolution, so you don't miss anything.

Eye and Focus assessments

- The software's eye assessments provide indicators to let you know the state of your subject's eyes, while focus assessments let you know how in focus your subject is. The color warnings, red for undesirable and green for desirable, make it easy to identify which photos you should review.

Close-ups panel

- For photos with people, you can use the Close-ups panel that instantly shows every subject's face in detail. This means you don't have to zoom in every time to check if the faces are sharp enough or if subjects have eyes open.

Scenes view

- Select can group similar images into scenes. Within Scenes view, you can sort the photos so that the images with yellow and red indicators are placed at the bottom of each scene. This enables you to quickly and easily identify the best image from each set of images.

One-click import

to Lightroom and Capture One

- When you're done culling, you can import your photos straight into Lightroom CC or Classic, or Capture One.

A free plan (with advanced features)

- The free plan includes all advanced AI culling features on the first four projects every month. 
Cons
No Windows support (yet!)

- the software is currently only available for macOS users, but you can

sign up to be the first to know

when there's an update about a Windows version.
Cull your photoshoot twice as fast
Get Narrative Select Free on macOS & Windows. No credit card required.
3. Photo Mechanic
Photo Mechanic is a file management software, particularly popular among photographers who shoot high-volume and time-sensitive work, like photojournalists and event photographers. 
Pros
Fast (even with RAW files)

- Photo Mechanic quickly ingests photos, and you can cull using high-quality image previews. As you go through the images, there is no delay in loading them. 

Advanced ingest functionality

- Before you start culling, you can set the software to perform various functions to save time, like renaming images, applying a metadata template, copying files to different locations, and more.  

Lots of captioning tools

-  You can use shortcuts to organize and filter your photos by adding color labels, star ratings, tags, and keywords.

File sharing

- If you need to deliver photos to your team or clients instantly, Photo Mechanic offers file share using SMTP email servers. You can also upload photos directly to platforms like Amazon S3, Flickr, Zenfolio, and others.
Cons
Unintuitive interface

- Photo Mechanic has a complicated and clunky interface that makes it difficult for first-time users to make the most of the app. Adapting it into your workflow isn't as seamless and intuitive as some of the other software mentioned, and you may spend hours trying to learn the software.
No AI-assisted features

- There are no AI tools in Photo Mechanic, so you'll have to cull manually. 
One-off license

- You can only buy Photo Mechanic with a one-off payment. This means you will have to continue upgrading your license if you want the latest features. 
4. Adobe Bridge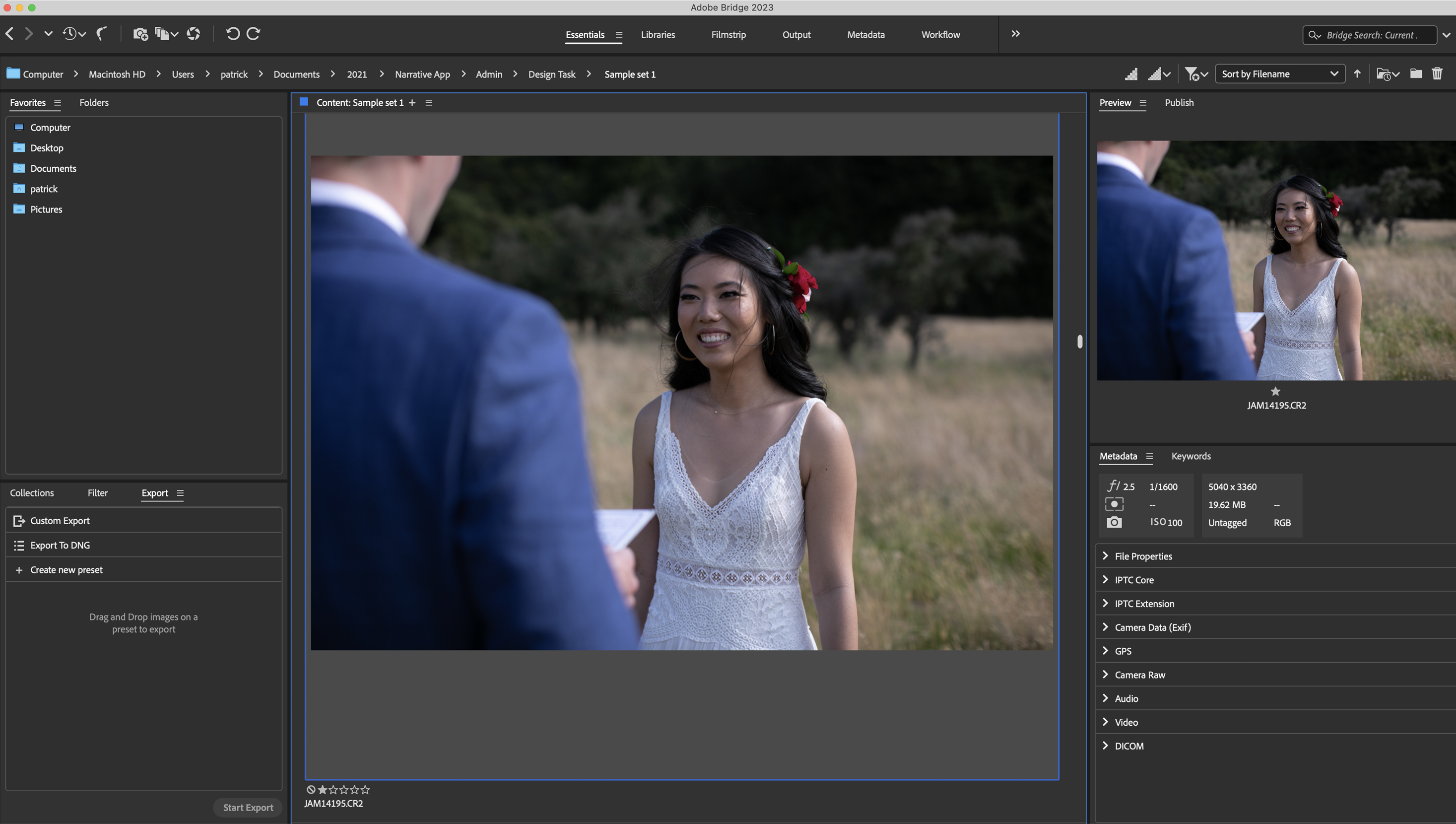 Previously bundled with Lightroom and Photoshop, Adobe Bridge is now a stand-alone app anyone can download and use for free. It's a digital asset manager you can use to preview, organize, and modify your images. 
Pros
It's free to use

- If you're on a tight budget, you can use Adobe Bridge to organize your files, change metadata, and cull using labels or ratings for free.

Create workflows

- For any repetitive batch work like changing file names and format, you can set up workflows that perform several tasks simultaneously.

Use with other Adobe apps

-  Already integrated into Adobe suite, the app has handy features to edit images in Creative Cloud apps.
Cons
Focus on file management, not culling

- Out of all apps on our list, Adobe Bridge is likely the least optimized for culling. Although the software includes features such as image labels and ratings, it's not designed to cull but rather to manage digital assets.

Slower than others

- Similar to Lightroom, Adobe Bridge can start to run slower or freeze. The app takes more of your disk space to process large files, which means you'll need to regularly free space or invest in larger external storage.
5. AfterShoot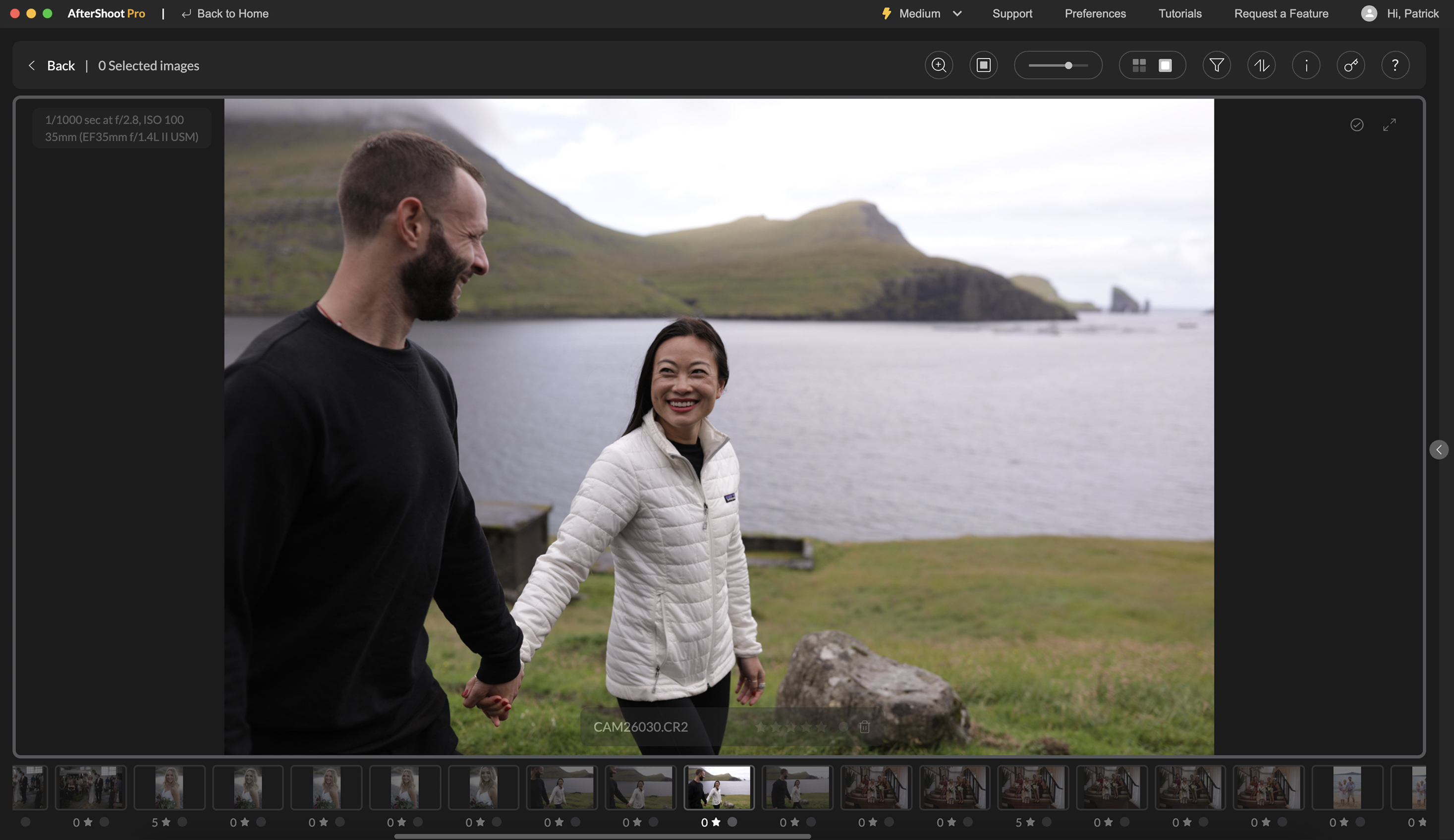 The only other AI-supported culling software on our list is AfterShoot. It has a simple, user-friendly interface with plenty of tutorials to get photographers up to speed with the software. However, because the software is automated, it doesn't give you much control over the culling choices. You will likely need to manually review all culled photos and change some selections to deliver the best result for your clients.
Pros
Automated culling

- You can select parameters of how you want the AI to cull your photos, for example, set 'Strict' to exclude all photos where the subject is not sharp and with a low tolerance for soft focus images. The software will do the culling and separate photos in folders for your review.

One-click import for editing

- After you're done culling, you can click to import your selected photos straight into Lightroom or Capture One.

Groups and labels duplicates

- The software groups similar sequential images and labels them using colors so you can scan through and pick the best one. The color labels are based on the quality of the image, for example, green for a good photo and red for a blurry one.
Cons
Not fully accurate

- The AI isn't foolproof at recognizing which images are keepers and which aren't. You may spend just as long reviewing the results as you would culling them manually. 

Can't edit grouped duplicates

- If you've found shots from the same sequence that the AI failed to group, you can't manually add them to the duplicates. This means you may end up with similar selected images because the app didn't recognize them as duplicates. 

Works better with photos of people

- Closed eyes or faces out of focus are easier for the app to identify than still life or detail shots, lay-flat images, or landscape photos.
Ready to take your culling workflow to new heights? Join thousands of professional photographers who already use Select to cut culling time in half–you can start with a free plan!