9 Ways to Improve Your SEO Ranking
---
You have spent all this time (and money) creating a beautiful website, you have beautiful imagery and killer content but... you have no idea where the heck to start when it comes to SEO. It can be overwhelming and confusing, so you put it on the back-burner. We get it, but it doesn't have to be that way. You don't have to do everything at once, start small and work on one thing at a time. We have broken down implementing effective SEO into nine key area's and outlined why this matters.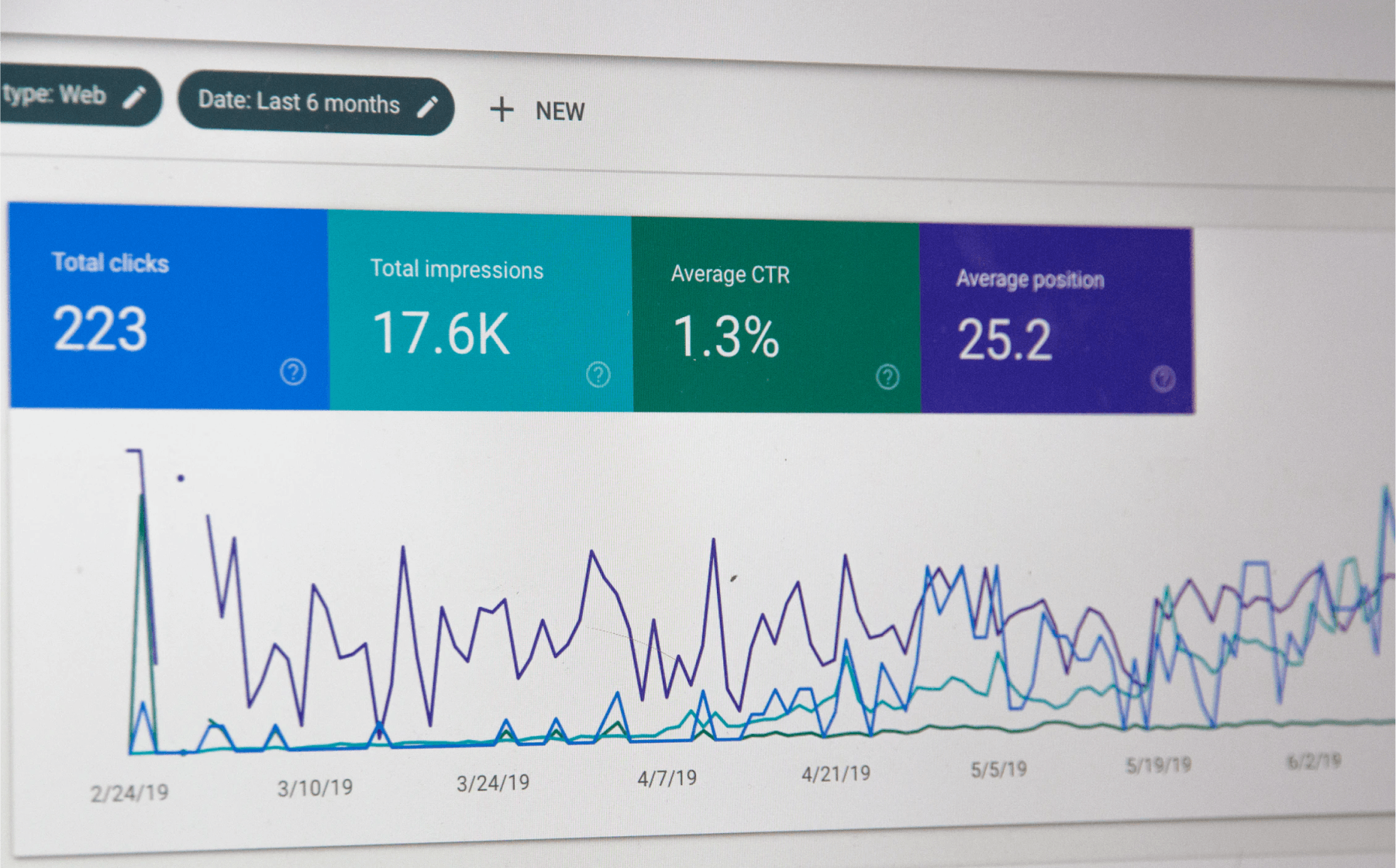 Update your content regularly
Google loves websites with active blogs. The more you are adding fresh content to your site the more likely you will rank higher.
An important part of this is keeping your blog content updated:
Relevance: People are more likely to click through to new content so go back and update your older content if applicable. Things can change fast, something you wrote 6 months ago may not be relevant anymore.
Removing broken links: When Google is crawling your site, if it reaches a broken link it can prevent your site from being indexed. They can also cause people to exit your page increasing your bounce rate and as a result your rankings. When you are updating your post's, check your links! You can also use this broken link checker tool to scan your whole website for broken links.
With Narrative Publish you can easily go into old blog posts, make the changes you would like and simply hit the 'update' button. This will automatically update the post on your website!
Content focus & Keywords
What if you haven't updated your content in awhile? Start by asking yourself what you want to rank for and the intent of the article. Then start brainstorming! From there you will have a solid foundation and can start structuring your keywords. A keyword is essentially just a word that best describes the content on your page or post and helps it to be recognised by search engines.
There are a couple of things to consider when it comes to keywords:
Focus keyword: Whenever you start a new page or post, get clear on the focus of the content. This will form your focus keyword and will be the base of your SEO. In Narrative Publish, you can enter your focus keyword and you will receive feedback on the rest of your SEO in relation to the keyword.
Get specific: When you are working out your key words ask yourself "What exactly am I trying to rank for?" Chances are, if you focus just on the city you live in, there will already be thousands of results, making it much more challenging to rank. Include what type of shoot it was or what made it unique. For example, "Urban Auckland Wedding" over "Auckland Wedding."
Search intent: Your content is just as important as the keywords you use, so it should be relevant to what a user has searched for. There is nothing more frustrating for a user to be pulled in to an article from a clickbait title only to find it has no relevance to what they were looking for.
Image Keywords: Image Keywords are the descriptive text attached to an image. They help Google identify what your image is and help reinforce the credibility of your website and images. It's important to use words that accurately describe the image without being too spammy. A good rule of thumb is to use 10 keywords maximum per image. As a test to see if your keywords are sufficient, get someone to close their eyes as you read them the keywords. If they can recreate the image from those keywords alone, you're on the right track. In Narrative Publish you can select all your images, and apply the same keywords to them all but if you can, remember to add some unique keywords for each image.
Make your titles compelling
The title of your blog post will show up when you publish it, so it's important that your audience and Google are able to understand what the page is about from reading the title.
A few guidelines to follow when creating a title is to keep the length between 45-60 characters, avoid using capital letters, and include keywords that you want to rank for. The SEO feature within Narrative Publish will give you feedback based on your the relevance in relation to your focus keyword and title length.
It's also important to consider the sentiment of your title. Titles that convey either a strong negative or positive sentiment tend to perform better. A helpful tool to work out the sentiment of your title is Coschedules headline analyzer.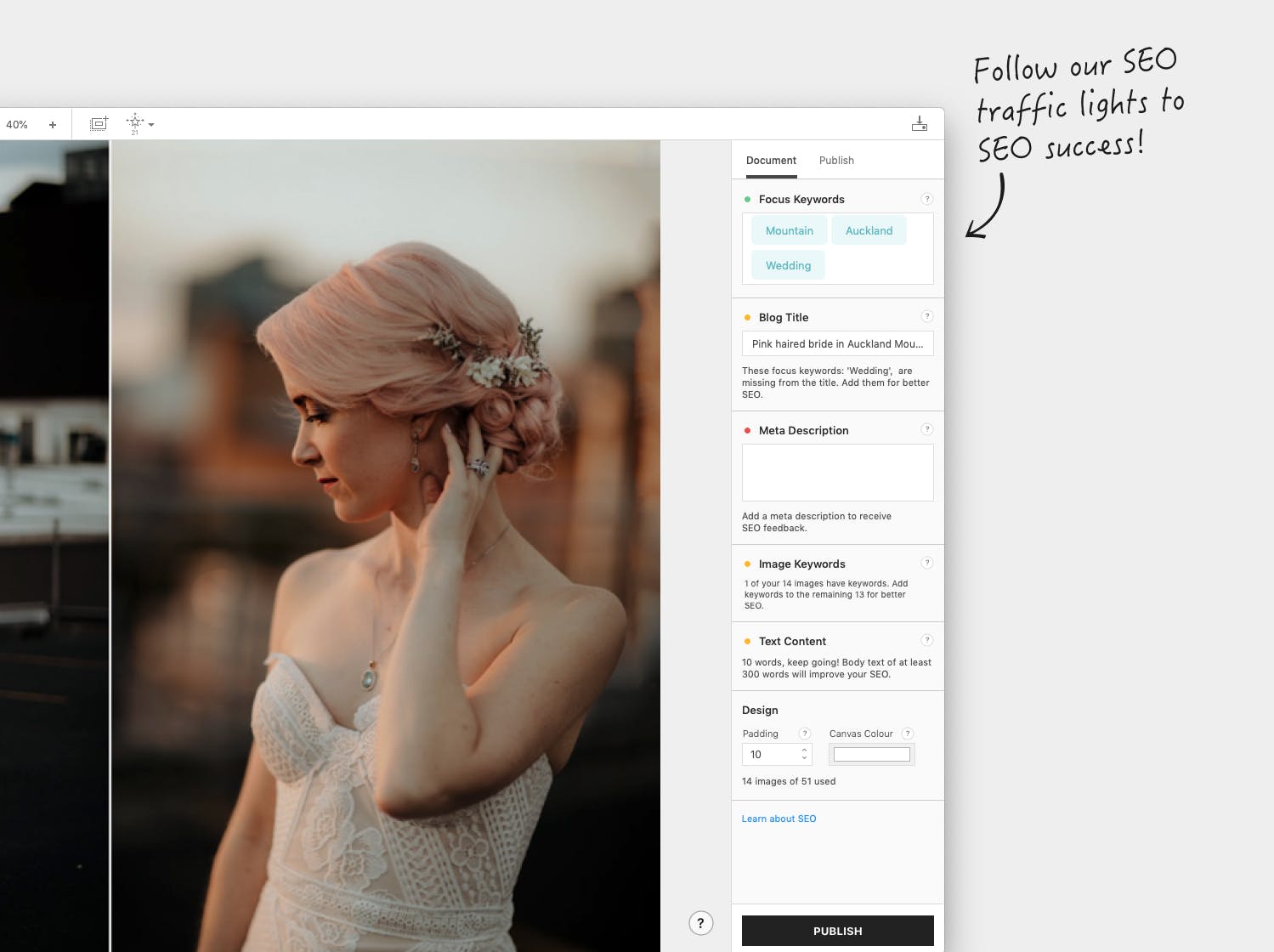 Write an engaging meta description
The meta description is the text that shows up under the title in the search results and provides a brief summary of the page. Google does not actually look at the meta description for calculating ranking, however, it is key for the click-through rate, which in turn affects your ranking. The higher your click-through rate, the better your website will rank. The meta description sits inside the meta name tag on your website and should be altered for each page. Meta descriptions also show up as the description of the link when you share your blog through social media. A good rule of thumb is to keep your meta description between 125-155 characters and be sure to include your focus keywords.
Don't forget about the text
Photographers will naturally have image-heavy blog posts, but don't forget about the importance of body text. In order for your website to rank high, the text is an important part. The longer people stay on your website, the better it will rank, so make sure your copy is well written and attractive. Don't have text just to have text, make sure it is quality content that your visitors will want to read.
The text also gives your images creditability so having sections of text around your images lets Google know what the image is about and is more likely to favor it.
You should include the focus keywords that you want to rank for inside your body text. This should be done sparingly however, as too many of the same keywords can be viewed as spammy by Google and lower your website's reliability.
Utilise internal and external links
Links are a great way to improve your website's legitimacy and improve your ranking.
The benefits of external linking
An external link is hyperlinked within your post that lead to another web resource.
External links can provide relevancy clues which helps search engines which helps to validate the importance of a blog post
It is helpful for your website's reputation if you share valuable information with credible sources
The benefits of internal linking
Internal links are also hyperlinks within your post but lead to other pages or post on your site.
Increasing your page views which can help to increase your conversation rate
Increases a users time on your site and reduce your bounce rate
If you focus on these nine key areas while putting out quality content, you will see your rankings improve. It may take some time on the front end, but it will be worth it when you see the results.
Secure your site
The technical aspect of having a secure site can be a little confusing, but essentially Google favours secure sites as it is safer for users. By getting an SSL certificate (https) it stops anyone from being able to steal information that is being sent to a website such as credit card information and logins.
In 2014, it was indicated that HTTPS is a ranking factor in an attempt to make the web a more secure place for people. Google Chrome also indicate to users when a site is not secure, which is a negative customer experience and could result in a potential client leaving your site.
For smaller websites, the process of switching to HTTPS is fairly straight forward and most hosting providers now offer a simple 1 click deployment of SSL. However, it's important to check that everything is redirected correctly. Our friends at Flothemes offer an SSL Implementation service for WordPress users so you don't have to worry about the technical aspects that may impact your SEO rankings.
Speed up your site
Slow sites provide potential clients with bad customer experience as users expect websites to be fast. According to research by Google, sites that loaded within 5 seconds had a 70% longer average sessions. Optimising site speed for photographers is slightly more challenging due to a large amount of high-resolution images.
There are a couple of things to focus on to enhance site speed:
To work out where you are at with this, start by testing your site speed. Some tools for this are PageSpeed Insights by Google,  GTMetrix or Pingdom.
Image sizing: Using the right image sizing on your site is a super important aspect of site speed. There are generic sides that are recommended but we recommended checking with your web developer on the exact sizing. For blogging, Narrative Publish will resize your images to 5 different sizes to ensure your website runs fast on all screen sizes. Lazy loading is also utilised which means your blog post will load lightning fast!
Make sure you have reliable hosting: the importance of this can easily be overlooked but it impacts your site speed and security massively. When choosing or changing providers take note of what they are offering in terms of site speed, storage, server location and customer support.
If you focus on these nine key areas while putting out quality content, you will see your rankings improve. It may take some time on the front end, but it will be worth it when you see the results!