Best Memory Cards for Professional Photographers
---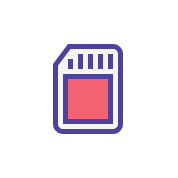 Memory cards are a vital part of every photographer's toolkit and getting the right one can make all the difference. While the latest cameras are capable of lightning-fast shooting speeds this becomes useless if your memory card isn't up to scratch. 
We suggest shooting on two memory cards at the same time because that gives you an instant backup incase either card gets corrupted. Once your shoot is over we suggest a three-part back up system including an HDD/SSD, cloud-based storage and a NAS. Read our full guide of backing up your photoshoot here. 
There are three main things to consider when purchasing a memory card and they are speed, size/capacity and reliability.
Speed
Speed only starts to matter when you're shooting on burst mode but it's that moment when you're catching the perfect scene and your shutter stops flicking because your memory card is buffering and you realise your memory card is too slow and you missed the moment!
The fastest memory cards out there are built for filming 4k video but you don't necessarily need to pay for that much speed if you only intend to shoot photos.
The speed you will need will depend on the capabilities of your camera (the recommendations we make below are for the Canon 5D Mark IV). 
See this in-depth article to find the best cards for your camera.
Capacity
Another important thing to consider is capacity. You don't want to have worry about to be switching cards during a shoot, for that reason we recommend you don't use a card with less than 64GB of storage and go for 128GB to be safe. 
Reliability 
Reliability is another important factor so you want to be using brands you trust in order to avoid your cards getting corrupt. 
What type of memory card should I use?
While SD cards are the most popular and an increasing number of the latest cameras are beginning to favour CFexpress or XQD card technology, especially if fast speeds and a large amount of storage is required. Many cameras still use CompactFlash and it gets plenty of support from memory card makers too. 
Now that you know what you need it is just a matter of finding a card that works for you and at the right price.
What you will need will depend on what camera you have. We have made our recommendations based on the Canon 5d mark 4, it needs a minimum of 160MBs on a CF card and 95MB/second on an SD card.
Here are our top picks:
SD:
SanDisk Extreme Pro 95MB/s 64GB SDXC UHS-I U3
The Extreme Pro 95MB/s UHS-I is the fastest UHS-I SD card offered by SanDisk.
$55USD for 64GB or $100USD for 128GB.
Sony M Series 64GB SDXC UHS-II U3 
Sony offers this card with great speeds for continuous shooting at a great price. You can get these for around $24USD for 64GB and $55USD for 128GB.
Transcend Ultimate UHS-II U3 64GB SDXC 
Thes cards are capable of amazing read and write performance. You can get a 64GB for around $54.
CompactFlash:
Lexar Professional 1066x 128GB CompactFlash Card
The Lexar Professional 1066x 128GB CompactFlash card offers high performance and large capacity. The 128GB is around $115USD and you can get a 64GB for around $65USD.
Komputerbay 1066x 128GB CompactFlash
This is a great high-speed, low-cost option at around $70USD for 128GB.
SanDisk Extreme Pro 160MB/s 64GB CF Card
Extreme Pro CompactFlash cards are popular cards used by many professionals. They are designed to operate in extreme conditions. The card will work in a wide temperature range from -13°F to 185°F. It has an internal RTV silicone coating protects it from shock and vibration and comes with a lifetime warranty. A 64GB will set you back around $56USD and the 128GB $87USD.
Hopefully, this helped you find the best memory card for you. 
Read our other articles on the different types of storage solutions we suggest using: