Social Media Marketing for Photographers
---
Most photographers will already have some kind of social media presence and many of you will also know the value that social media can add to your business. This blog won't state the obvious but it will hopefully give you some helpful inspiration, tips and ideas for improving your current social media marketing.
Content
The first thing you need to have great content is a plan. It doesn't have to be anything fancy but if you have even a simple plan or strategy it will help you schedule content, save time and identify gaps. Plus, having some kind of plan or strategy in place will give you a starting point to build on and add to.
A great way to structure your content strategy is with three or more content pillars. A pillar is just a category that a type of content can sit under. Your pillars should all be things that would be interesting to a potential customer and contribute towards your business goals somehow.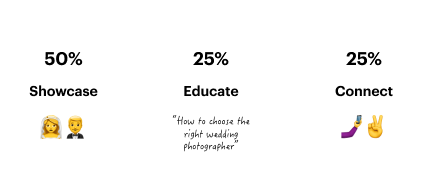 In this example the first pillar, showcase has the highest frequency as most potential clients will want to see your work when they visit your page. Breaking those posts up should be some pieces of educational content that should help to answer any common questions new clients might have. And finally there should be some content that helps you connect with people and show a bit of your personality. Content that has a personal touch is important to include as people tend to connect more with a real photographer/person than they would with a faceless brand. Additionally, most people will want to know a bit about the person who might be taking photos of them!
Engage
Engaging with the followers you have is an important part of fostering growth, leads and relationships. This means taking the time to respond to any messages, comments and questions, ask questions and make comments of your own too. Don't forget to engage with the wider photography community as well. You should regularly check out other photography pages and groups and interact with people while you're there. This will help new people discover you and give you the opportunity to learn a bit more about what people are looking at and loving.
Your community provides an endless source of inspiration and you will most likely enjoy getting involved too!
Tools
We absolutely recommend using a scheduling tool for your social media. It will save you massive amounts of time and make your life significantly easier. There are a lot of tools available for just this and choosing the right one depends on your situation. Facebook/Instagram do have their own scheduling too you can use which is called Creator Studio. This does not have all of the fancy features some of the paid tools have however it is a great option if you are on a budget. 
If you do opt for a paid scheduling tool you will get extra things like a grid preview, helpful analytics, scheduling for all platforms including Pinterest and Twitter. Some of these will give you a 'link in bio' page as well. These are a helpful tool to have if you are driving people to a range of different blogs and pages, but may not be necessary if you just want to drive people to your website. Linktree is a popular tool that creates a simple page with all of your links. 
Platforms
When posting on different social media platforms it is important to think about what people tend to use that platform for, how they are using it and what mindset they are in when they are using it. Facebook users usually use it to connect with friends whereas Pinterest users rarely use it for that purpose, they are usually finding inspiration, doing research and planning. Instagram has a mix of both of those things and then platforms like Twitter and Reddit people use more to seek news and information. For the purpose of this article, we're going to mainly focus on Facebook, Instagram and Pinterest.
It doesn't hurt to have some social media accounts that may not be updated constantly as it gives people an account to link to if you are mentioned on that platform and it means you will show up if people happen to search for you on there too. 
Here are some points to help with each platform:
Facebook 
Allows you to have a more comprehensive business page with a lot of information, so you should take full advantage of that. 

You can post galleries which is the perfect way to share highlights from a session. 

Facebook also allows links so you can drive traffic directly to where you want it to go. 

If you choose to switch on messages, Facebook can be an easy, informal way for people to contact you. 

Facebook lets people book appointments directly on the page. Photographers can set this up for clients to book consultations.

Most people will share their wedding photos on Facebook and if you share their gallery they will most likely share that too and those posts get a lot of attention.
Instagram 
Many people planning weddings and looking for inspiration will use Instagram in this process. 

Most people will share their own wedding photos on Instagram too so make sure they tag you!

It is very common for Instagram to be the first place that people look when they are looking for a photographer. So make sure you use your feed a bit like a portfolio.

Instagram only lets you have one link in your bio so this is a great place to add in tools like Linktree

Utilize all of the Instagram features you can. That means don't just post photos on your feed, upload stories, IGTV and new features like Reels. 

Use the latest features. Instagram will show content that uses their new feature first as they want to get as many people to start using them as possible. So if you want to get the highest possible impressions on your organic content make sure you utilise any new features Instagram introduces.
Pinterest
Pinterest is a very popular place for people to plan weddings and create mood boards and so you should be on there for that crucial part of the planning process.

Make sure to include keywords that your potential clients will be searching for e.g. "relaxed wedding photos California".

Always link your pins back to your website.

Educational content works well on Pinterest e.g. "5 Tips for Planning an Elopement".
With a strategy in place, tools to help you and some knowledge of the different platforms you should be able to make improvements to your social media marketing and see some positive results. Make sure you check out our other blogs on marketing for photographers like Facebook Advertising for Professional Photographers and Branding for your Photography Business.