The Best External HDDs/SSDs for Backing Up Your Photoshoot
---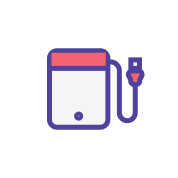 After a photo shoot, the first thing you should do is back up your images to an HDD or SSD.
For an extra measure of safety, you can use two - one as your primary drive and one as your backup that constantly measures the other. Additionally, we suggest a three-part back up system that also includes cloud-based storage and a NAS. Read our full guide of backing up your photoshoot here. 
HDD or SSD?
Most of you will already have an HDD. These are the less expensive of the two options and data stored on an HDD untouched will last longer. HDDs tend to be a lot slower and quite big and fragile so they are more ideal for files you want to store and access less often.
SSDs while being more expensive, they are super fast and they are also lightweight and durable making them perfect for use when you're out and about and for storing your working files and things you will need to access regularly and quickly. They aren't the best option for long term storage, using something like a NAS with hard drives is better for that. 
Note: The type of USB you use will limit how well your hard drive performs. 
The key ones you need to know about are: 
USB 3.0 will reach speeds of about 5GB/s, 
3.1 up to 10GB/s 
3.2 up to 20GB/s
You will see the difference in speed between the HDDs and the SSDs in our recommendations below. 
Best HDDs
WD My Passport 1TB
Speed: USB 3.0 = 5 Gb/s (max); USB 2.0 = 480 Mb/s (max)
USB: USB 3.0 & USB 2.0
Transcend StoreJet 25M3
Speed: Theoretical max throughput speeds of 5GB/s 
USB: USB 3
WD My Passport External Hard Drive
Speed: On the Mac, the Passport recorded speeds of 107.3MB/s read and 101.9MB/s
USB: USB 3.0
Best SSDs
SanDisk Extreme Portable SSD
Speed: 420 MB/s read and 380 MB/s write speeds  
USB: USB-C, USB 3.1
WD My Passport SSD Portable Storage
Speed: Read 1,050MBs, write 1,000 MB/s 
USB: USB 3.2 Gen-2 and USB-C (USB-A for older systems)
Samsung T5 SSD
Speed: 540 MB/s 
USB: USB 3.1 Gen 2 interface
Seagate Fast SSD
Speed: Read speeds of 540MBps and write speeds of 400MBps.
USB: USB-C/3.0
Hopefully, this gave you the information you need to find the best Hard Drive for you.
Read our other articles on the different types of storage solutions we suggest using: