How To Set up a Successful Photography Workflow in 2023
---
Have you ever noticed how your photography workflow looks different from other colleagues and friends in the industry? Narrative founder James Broadbent says it's not a surprise. As most photographers are self-taught instead of institutionally trained, workflows differ. 
Each photographer's journey is unique, but one thing is common — plenty of trial and error. Let's remember that technology advances and client expectations also change over time, so you must keep learning and adjusting throughout your career.
Can there be a templatised approach to photography workflows? We believe so.
It all comes down to solid foundations that give you a clear direction. Our photography workflow guide will help you avoid common challenges so you don't have to respond unexpectedly. 
And you don't even have to compromise on your style or photography — you can continue creating a magical experience for your clients while ticking off steps that ensure your workflow is bulletproof and easily repeatable for every client. 
Why your business needs a solid photography workflow
The most obvious reason for a well-defined workflow is knowing the next steps you should take at any stage of your client's journey. But there's more to it. 
Photographers are entrusted with capturing important moments, which is a highly prestigious position. Once-in-a-lifetime moments like weddings are a big responsibility to capture, and mishaps can happen, like uncooperative guests or bad weather. But you can still ensure the principles of your workflow are always the same. That way you can deliver quality service to every client even on a day when things go wrong.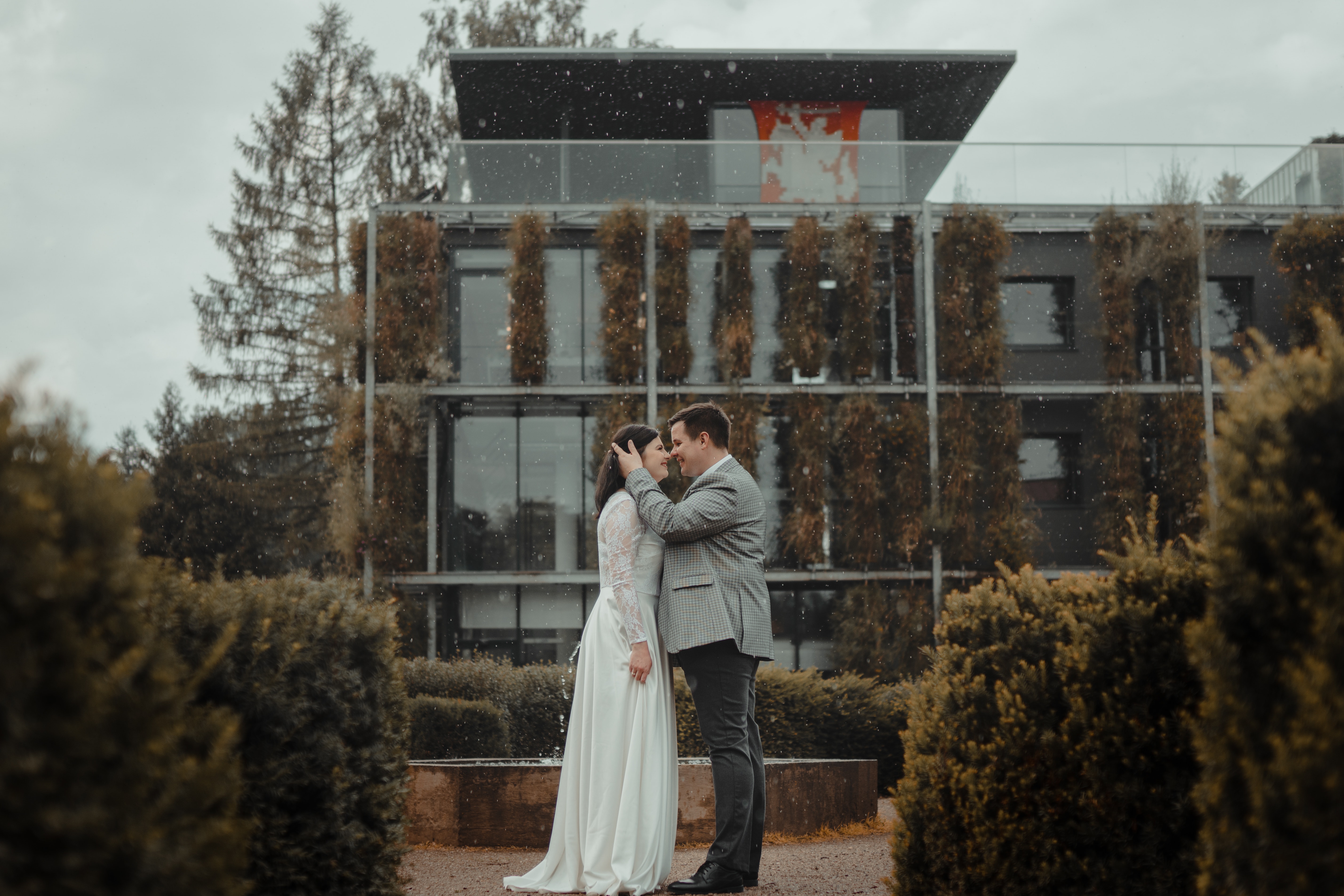 We recently spoke to photographer Miles Witt Boyer, who puts this idea of a simple but repeatable workflow at the top of the list for building a successful business. 
"If one client gets treated one way because you enjoyed the shoot and another client gets treated another way because you didn't, then there is no longevity in your career," he says. 
"You may be a talented artist, but your success is going to be completely reliant on whether or not you can rinse and repeat the process. Our clients become our biggest marketing tactic as opposed to consistently having to reinvent ourselves over and over again," says Miles. 
And with almost 80% of photographers getting clients from referrals and word of mouth, it makes sense why easy-to-follow workflows are key to consistent quality service and new leads. 
Think of it this way: instead of leaving it up to chance or inspiration (which may not come at the right time), your consistent follow-through sets you up for success and longevity in the business.
Start with thorough preparation and planning
A happy client and positive customer feedback become routine only through plenty of preparation. That's why your workflow starts well before you arrive at the shoot. 
For James, much of his work is about people being caught in the moment — as it is for most social photographers who capture weddings, families, couples, and events. So it becomes less about pressing the shutter at the right time and more "about all the things that you need to do upfront so you are positioned to be able to capture that moment."
But don't worry. That's not to say you need to have everything figured out before you book your first clients. Start with a thorough review of your client's journey from start to finish and outline every milestone your client reaches from the moment they get in touch with you. 
For example, record what you send clients when they enquire, how you handle contracts and payments, and how you upsell any print products after the shoot.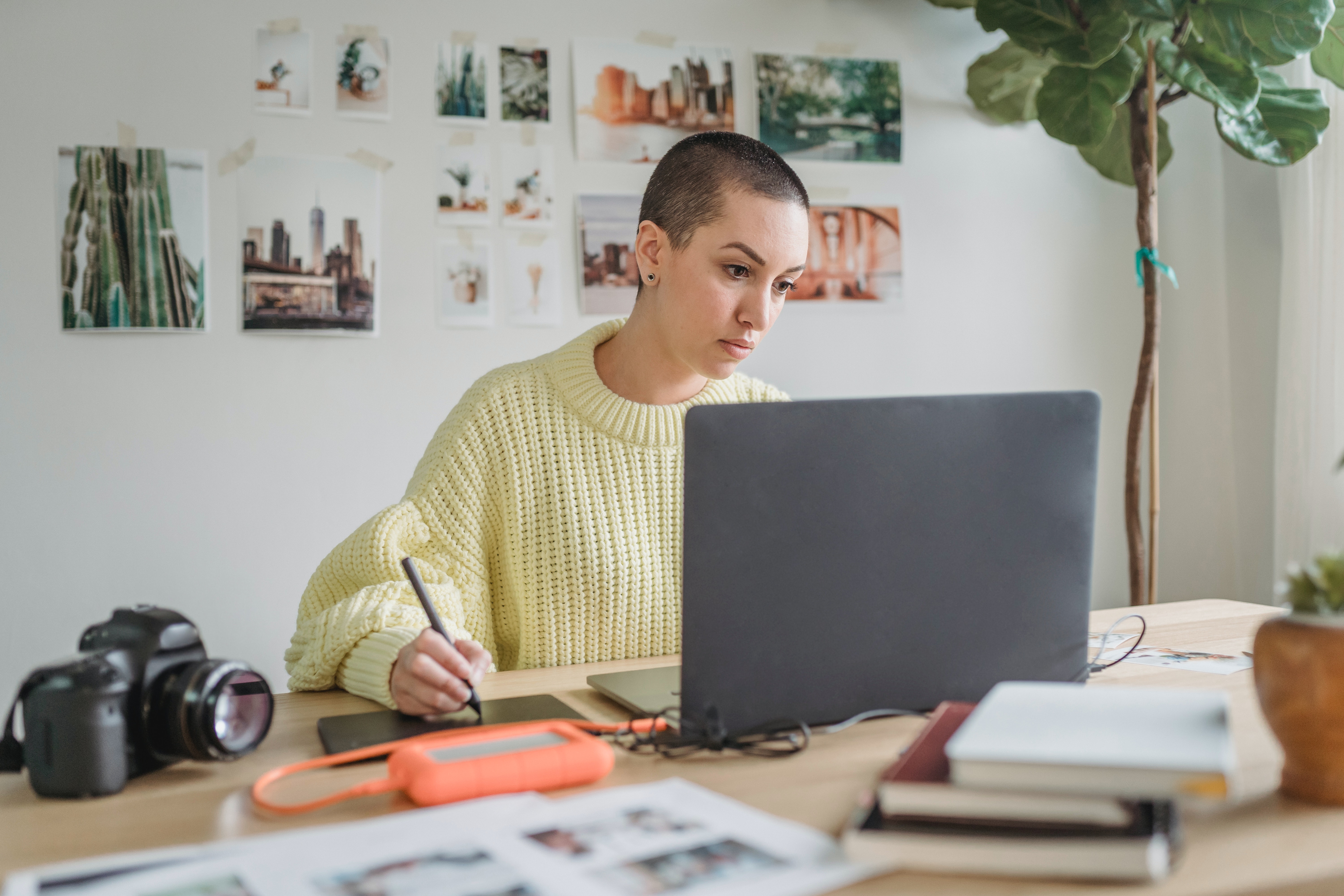 For every step, note whether you can improve, automate, delegate, or outsource it. For instance, take customer relationship management (CRM) software, like StudioNinja. With it, you can set up automated workflows that handle administrative tasks and client communication while you're out shooting
Above all, we recommend doing a regular business audit, so your workflow requires the least amount of work while allowing for the most time behind the camera because that's where the real magic happens.
Learn to shoot confidently and creatively
Now that you've laid the groundwork, it's time to channel your creativity and ideas behind the camera. James says this is where you want to put most of your time and energy. 
"The human part is that you can't just take a photo of someone and make it look great," he adds. "You have to interact with them and make them feel comfortable."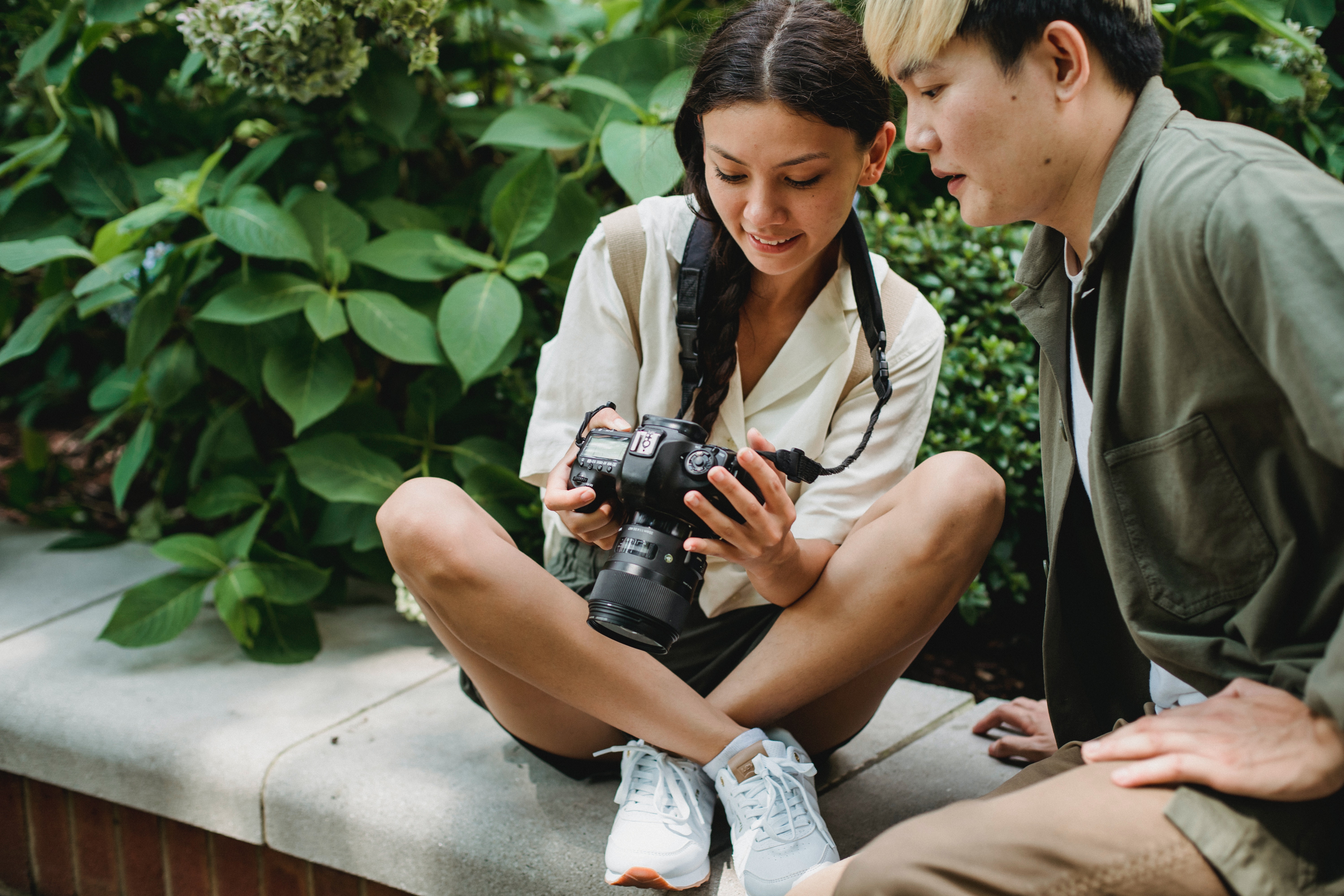 To do that, it's essential to tap into your soft skills, such as effective communication and reading body language cues. Even if you feel less than confident, the energy you give off during the shoot, your clients will often mirror. Some will relax and start opening up with a photographer who makes them laugh. Others may prefer a more grounded approach to boost their confidence in front of the camera. 
Photographer Tyler Rye says it all comes down to your adaptability — be true to your style, but personalize your approach for each client. In practice, that looks like getting to know your clients before a shoot, using different posing prompts, and picking locations that fit your clients' personalities. 
Now that you've built up the confidence to lead the shoot, the other half of the job is knowing your gear. You don't need to memorize your camera manual, but practicing and learning plenty will give you the technical skills to achieve those beautiful, artistic moments. Your camera and lighting equipment should enable your creativity, not hinder it.
Securely back up all photos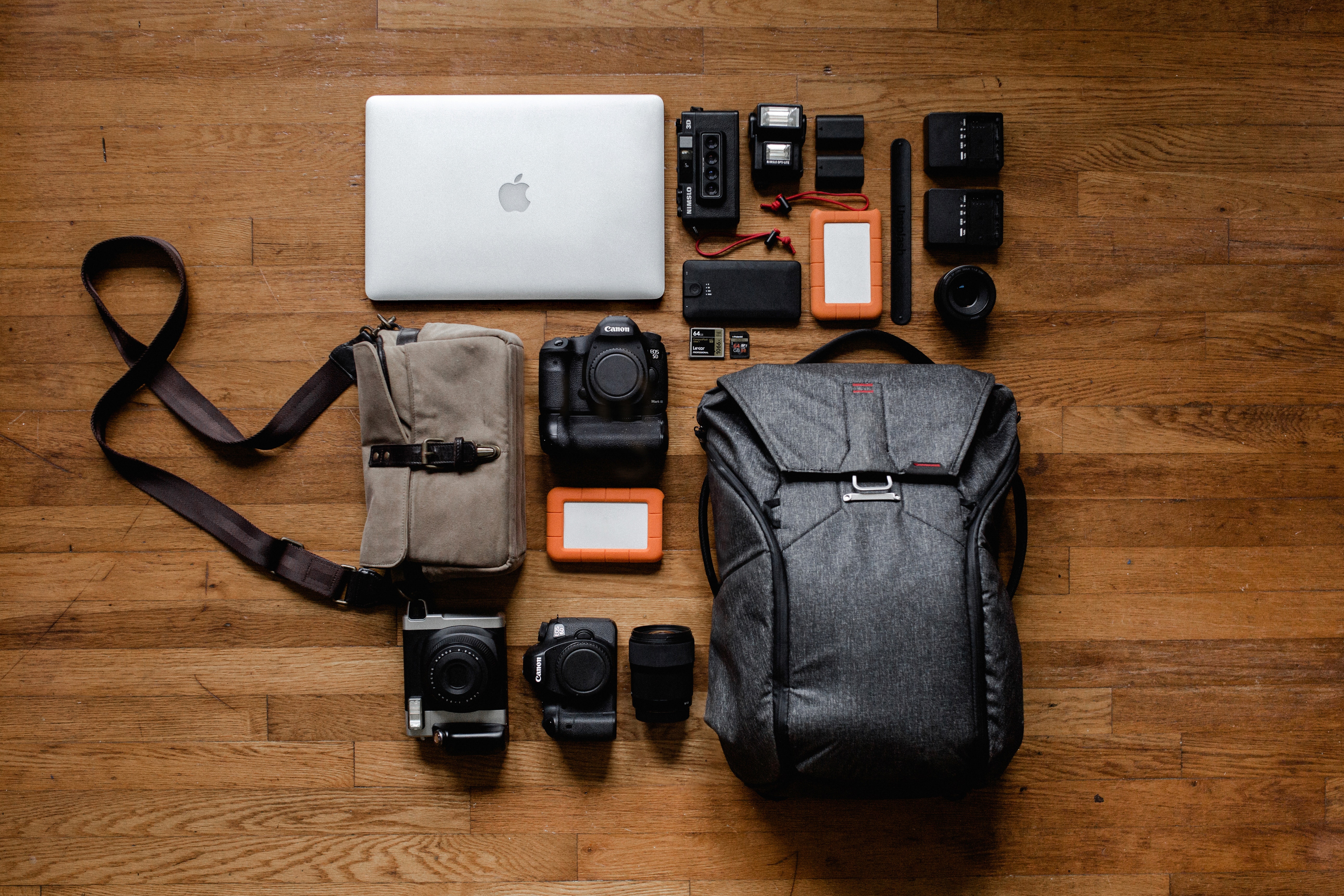 Safely importing and backing up your photos is likely the least exciting part of your photography workflow, but a crucial one. As a photographer, you already know your images are your most important asset. 
Reproducing a lost or accidentally deleted photoshoot is costly, while other things you can't put a price on, like locating a photo from several years ago for a client whose family member may have passed away.
Your backup workflow will depend on your budget, but we recommend a minimum of two backup locations, like an external drive and cloud storage. If you want to see a photo backup workflow in practice, Kyle from Narrative shares a video of his steps after every photo shoot to keep his clients' images safe.
As well as picking your backup locations, make sure to set up a file library system and naming convention that makes sense and lets you find client files quickly. 
Like outlining every milestone of your client journey, you can do the same for your photo backup. You can even print out a cheat sheet so images from every photoshoot go through the same steps, and you don't miss anything along the way.
Learn to cull files that will wow clients
After ensuring your photos are safely backed up, it's time to cull them. That means selecting the images you want to edit and deliver to your clients while disregarding any unsuccessful ones. For example, bad exposures and compositions, people blinking, and photos with wrong camera settings.
James believes "image selection is working out how you tell the story without burdening the client with a hoard of images". That's why the culling stage plays a significant role in exceeding your client's expectations. 
"I believe that the perfect selection is the least amount of images that tells the perfect story because a gallery delivered with a lot of repetition loses its impact and power."
To put it into context, picture this: your photographer sends you hundreds of photos from your wedding day. The gallery is full of similar photos. Some images are in the wrong order, and there are even some unflattering angles and moments of your big day. The sheer amount of photographs would soon overshadow your excitement, and you'd find it hard to pick any favourites. 
That's why culling is such an essential part of your workflow. You want every photo to wow your clients. So, how do you do that?
Mastering your curational eye takes time and practice. However, you can use dedicated tools to speed up the process, preventing you from becoming image-blind after hours of staring at the computer screen.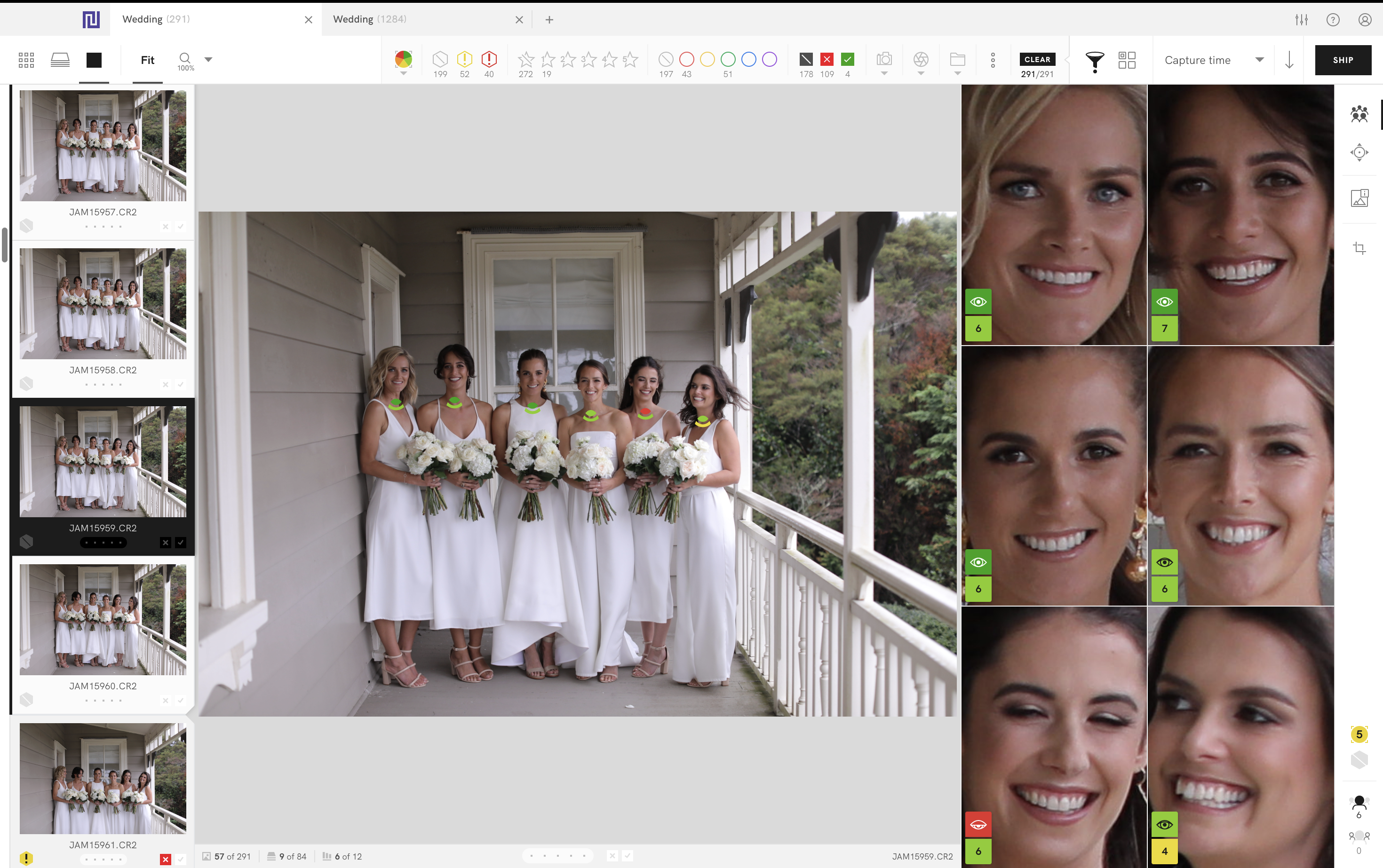 Take Narrative Select for an example. It's an AI-assisted culling tool that helps your rank order images, gives eye and focus indicators, and provides close-up panels so you don't have to manually zoom in to check subjects' faces. 
The AI doesn't take any creative control over your work — it simply helps you spot the keepers faster. After all, AI wouldn't be able to tell why a particular captured moment might be more significant than others, but you can because you were there on the day.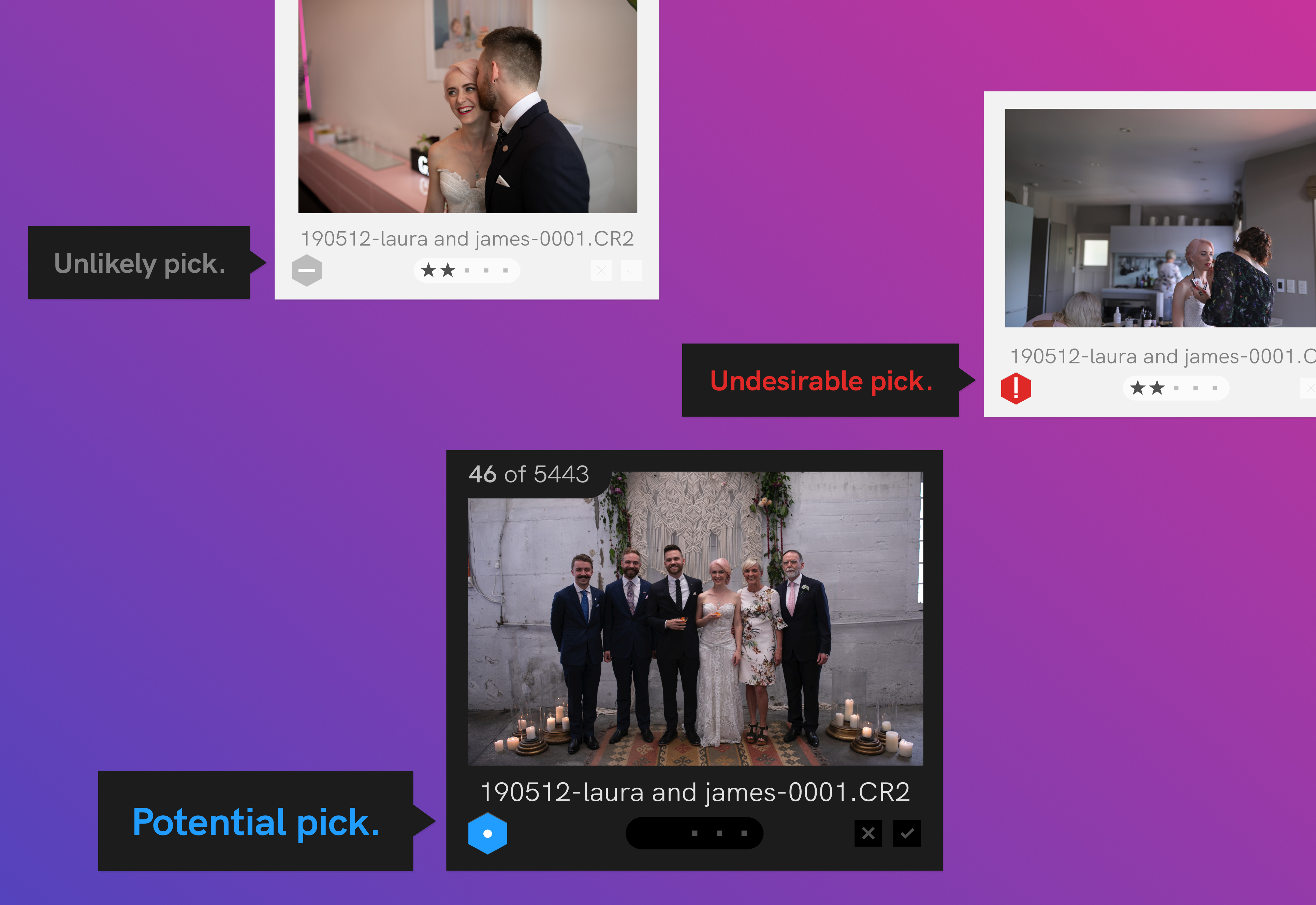 The same holds for the expected output of your culling session — AI doesn't call the shots. You may want to deliver a certain number of photos, or some parts of the gallery have greater significance. 
That's why we believe AI-assisted tools like Select help you make the right call faster so you can fly through this part of your workflow and get closer to delivering your client galleries.
Edit efficiently for maximum impact 
When it comes to editing, "You want a look and a feel that represents your style," says James. "And you want consistency because you get all kinds of results when you shoot across different environments and lighting scenarios. But consistency makes a person fall in love with your style."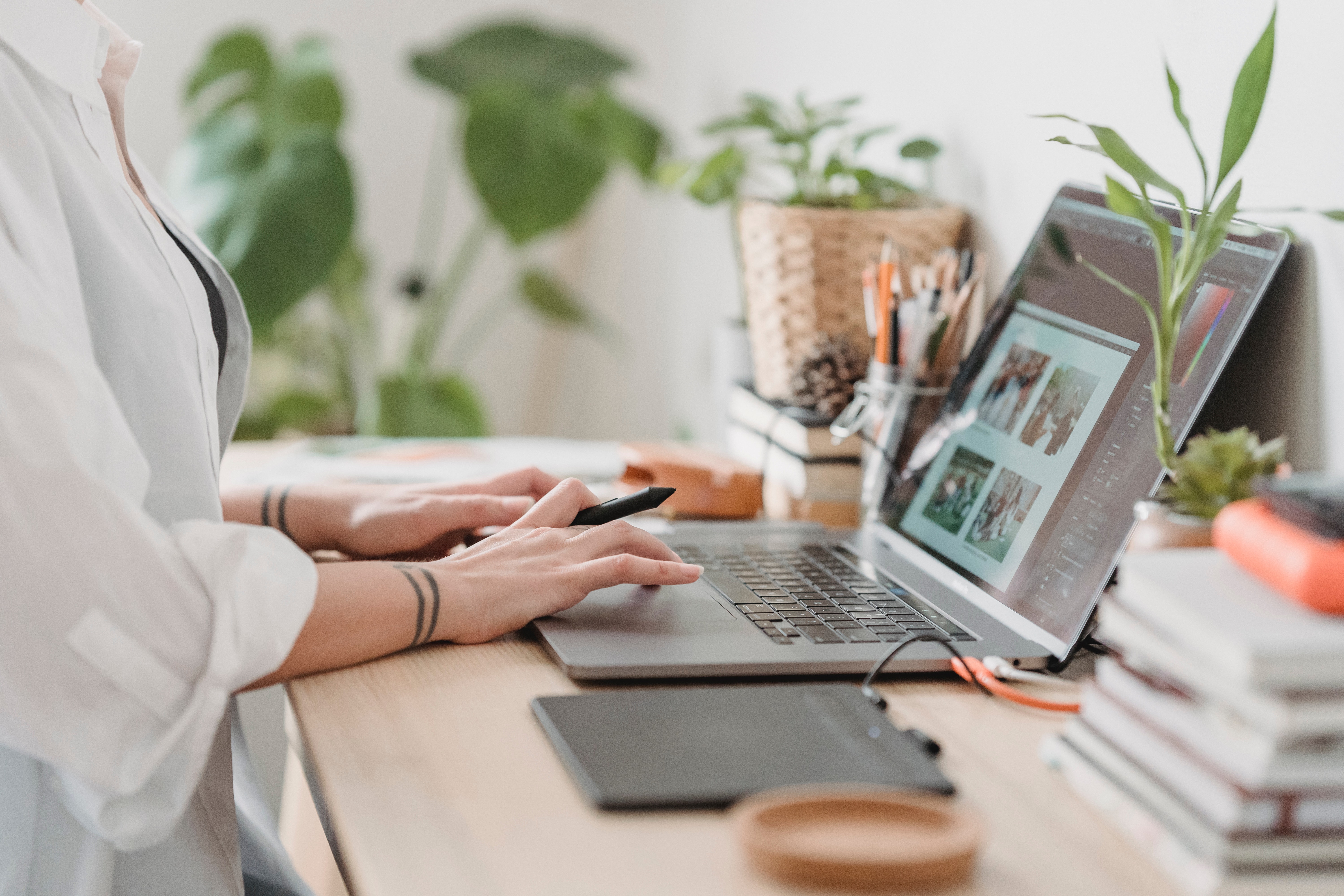 So when you see a photo on Instagram, you might guess who shot it before you even see their name. People become connected to you and your photography when you build consistency in your editing, even when your editing evolves.
AI can help with editing similar to culling, especially for setting a baseline standard across the gallery. Using AI, you no longer have to adjust your editing across different lighting situations and scenes because the algorithm considers that. 
The time you used to spend fine tuning tedious image settings can now be put into elevating any photos by removing distracting objects or fixing up any blemishes. The good thing is that more and more editing apps are starting to introduce AI, so there are plenty of choices. 
Deliver your galleries and leave a lasting impression
Sending off your galleries is a major milestone in your client's journey. You can turn it into something that brings you new referrals, print sales, and fresh content for your marketing workflow.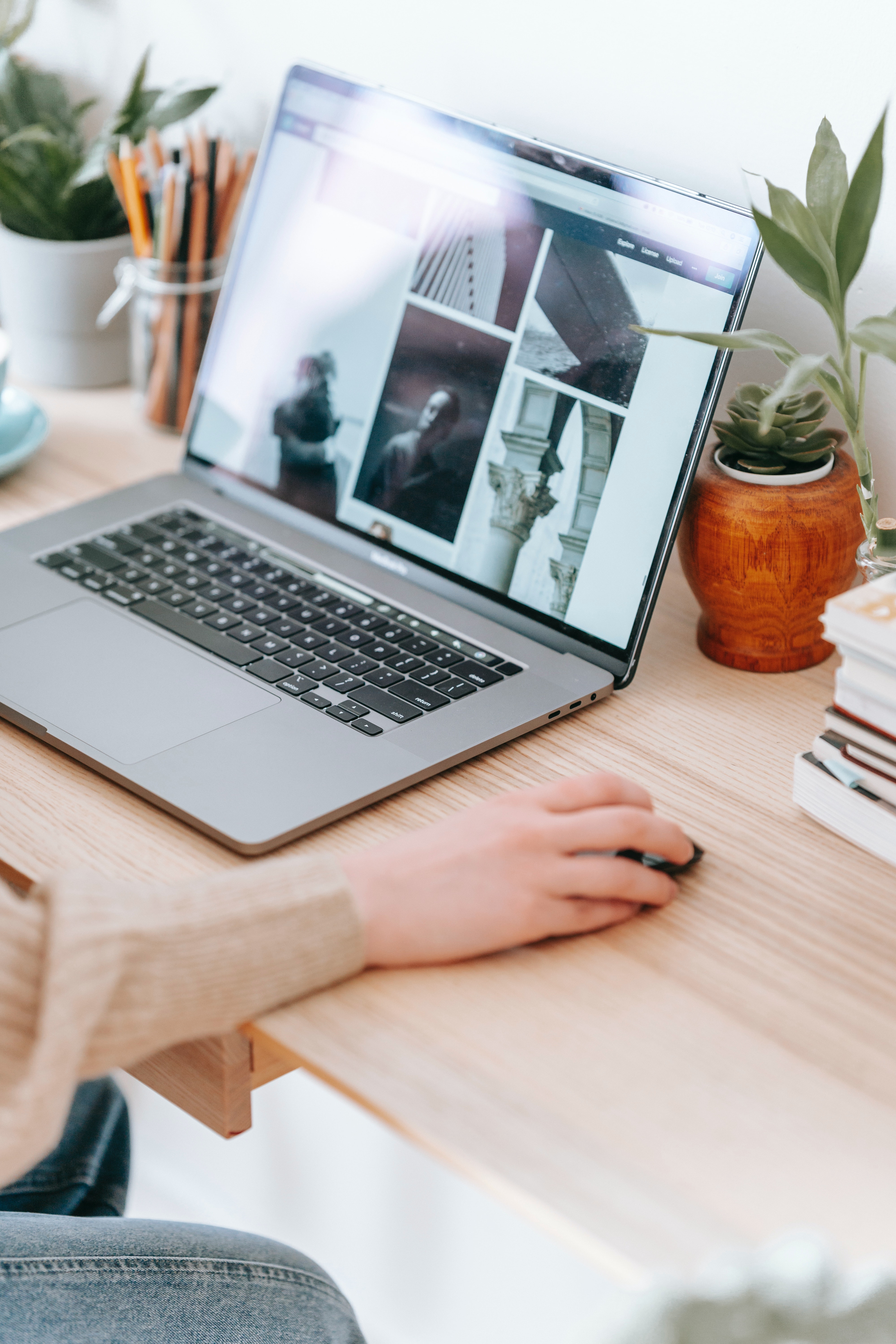 You could split your gallery delivery workflow into three parts:
Image and product delivery

-

Send your gallery to clients and consider including any physical or digital extras, like a slideshow, an album, or prints. Sending extras like these is a great way to get more people on mailing lists so you can start sharing information about ordering prints. 
Product sales -

Make your print product upselling a simple and fast process for your clients. Some photographers prefer in-person sales. If you use an online gallery that clients can order from, ensure you've tried the products and the ordering process yourself to see if it's straightforward and the products are high quality. You can also encourage clients to order prints you self-fulfil using your favorite print labs.
Content marketing -

Set aside time for using your latest photos to market your business through blog posts and social media.
Remember, you don't have to do everything on your own. You can automate some workflows like communication with clients (especially if you already use a CRM that offers this). Even simple email templates will save you heaps of time.
If you want to spend less time writing a blog post, you can use software like Narrative Publish for fast, SEO-friendly blogging. Publish highlights keywords relevant to your content, so your website benefits from SEO, and you have one less thing to worry about.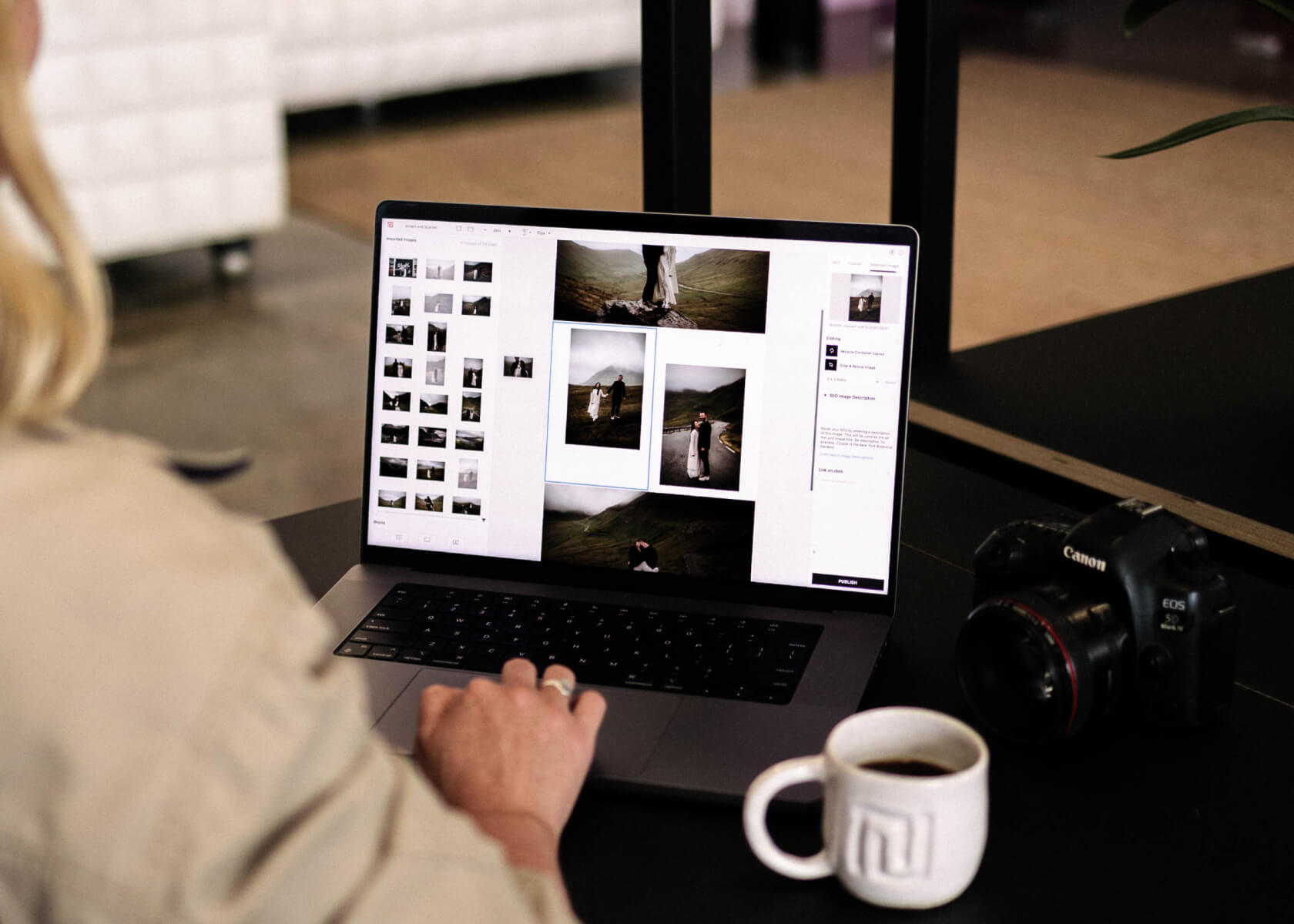 To go the extra mile, you can add surprises along the way, like Miles. He sends sneak peek photos on the day of the weddings and 40-50 sneak peeks as a slideshow a few days after the wedding. 
"When they come back up the aisle, and they are kissing, and they're happy, I get to say, 'Hey guys, all the people that weren't able to come to this wedding, don't go check your phone right now, but when you get a second, you already have a few photos in your inbox waiting for you so that you can share that with them.'"
While it's a surprise to the client, it's something Miles sets time aside for at every wedding. Using Bluetooth on his cameras, he can quickly share a few images to his phone and attach those in an email ready to be sent to the couple.
"This way, there isn't a temptation to post a selfie from the dance floor," he says. "You paid thousands of dollars for a high-end photographer, and photos are already waiting for you."
A workflow that works for you
There are so many moving parts to any photographer's workflow. And you don't need to completely overhaul your current systems — take it one step at a time and see if it works for you and your clients.
But remember, the goal is to have sustainable systems that keep your business running and prevent burnout. Photography won't stop changing, so neither should you — be willing to adapt and keep reviewing what works and what doesn't for long-term success. 
Cull your photoshoot twice as fast
Get Narrative Select Free on macOS & Windows. No credit card required.